White Paper: The Benefits of Sealed Seam Mattresses in Challenging Environments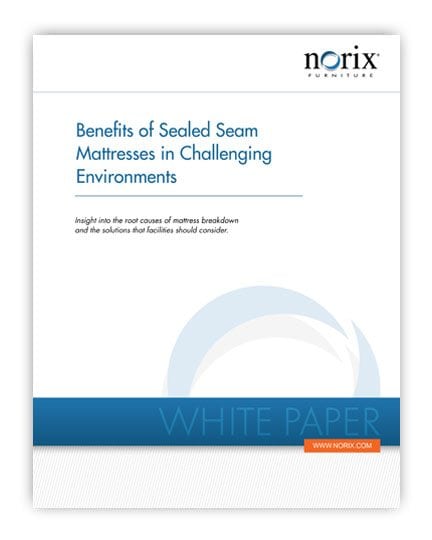 Picking the right furniture product can be a challenge for facility managers, architects, interior designers, purchasing agents and other professionals involved with intensive-use spaces such as healthcare facilities, correctional environments and shelters – places where a steady stream of clients provide extreme wear and tear on furnishings.
After all, furniture for residential settings differs greatly from furniture that is intended to be used in spaces where continuous and rigorous use is a constant challenge and considerations beyond comfort and style are a must.
Mattresses are no exception to this rule. In fact, this product may be at higher risk since they are made of softer materials – nylon, polyurethane and fabrics – that ensure comfort and usability for those in your facility. While wood and steel products may often be considered the products with the highest threat level, inferior mattresses can create their fair share of havoc and economic challenges, including:
Bed bug infestation – Mattresses are notorious for housing these pests. Infestation can become so damaging that the product may have to be completely replaced. Additionally, mattresses can provide a habitat from which the bugs can expand their infestations.
Sanitation and Bodily Fluids – Bodily fluids will inevitably come in contact with mattress products especially in healthcare environments where procedures occur and bodily functions may be an issue.
Contraband – Although it may not be as dangerous as a shank itself, mattress cavities are often the preferred hiding place for inmates and residents concealing contraband in facilities where this is an issue.
Breakdown of the product – Inferior mattress products can easily be vandalized and punctured and often show wear after a short time, forcing facilities to purchase new mattresses.
Download our free white paper for in depth information from leading resources regarding the hazards mentioned above and how they can create risks in your facility and drain funds from your budget. After we extensively outline the problems you may face, we also give you valuable advice on selecting Sealed Seam Mattresses.
These products' seams are sealed on the inside of the mattress and provide a continuous material connection around the circumference of the product. This is an upgrade from stitched seams which allow for tears, punctures and the entrance of bodily fluids into the mattress core, which can cause an exchange in fluids from one person to another.
The most effective of these products are fused together by using Radio Frequency Welding – a method where high frequency waves are used to heat and connect two pieces of material in order to create a completely sealed seam that provides consistent strength and intrusion safeguards around the entirety of the mattress.