Nylon Fabric: Well-Suited for Outer Space and Commercial Spaces
Our country's early space pioneers were sent into orbit a half-century ago wearing space suits made of nylon fabric, and the first U.S. flag planted on the moon was also made of nylon. In fact, nylon fabric was such an important technological achievement for our country's space program that it is part of the Smithsonian's 5-year traveling exhibit of space suits called "Suited for Space" that is making its way across the country. Both then and now this extreme –performance fabric stands on the cutting-edge of material science.
Invented in 1935, nylon was first used for more earthly applications – such as making ladies stockings, which at that time were made of 100% silk. Since that time it has gone through generations of improvements and refinements to become one of the most versatile and widely-used materials ever made.  A product of American ingenuity, nylon is:
Inexpensive
Strong and elastic
Lightweight
Easy to wash
Quick to dry
Responsive and resilient
Relatively resistant to heat, UV rays, and chemicals
Nylon upholstery fabric, especially solution-dyed nylon fabric, offers unique performance characteristics that make it ideal for use in contract, commercial, hospitality, and healthcare furniture. The characteristics of the fiber itself coupled with expert manufacturing processes make it hard to beat.
The Fiber
As heavy duty fibers go, nylon is a super fiber – making the strongest, most durable and stain resistant fabrics and carpets for the price. It tops polyester, rayon, olefin, cotton, wool, and most blends. Nylon is a continuous-extruded filament polymer (thermoplastic) vs. a being a spun filament (one that has shorter strands spun together) which make it very resistant to abrasion, fraying and pilling, and its molecular structure is just stronger than most other synthetic continuous filaments like polyester, olefin, rayon, etc. There's good reason why high-performance synthetic carpeting is made from 100% nylon and not blends – it holds up best to the abrasions of foot traffic, staining, and harsh cleaning. Nylon as a fiber does not absorb moisture and cannot harbor bacteria or mildew (however maintaining its silken sheen in the manufacturing process is important to retaining those anti-bacterial properties). Nylon also has a higher melting temperature so is more heat-resistant.
Solution-Dyed
There are two primary ways of dying nylon. Solution-dyed is when dye is added (in pellet form) to a molten vat of nylon which is then extruded into continuous filaments. The color actually becomes part of the fiber and therefore is almost impossible to remove. No amount of rubbing will create a situation where the color is worn off and a contrasting color below shows through.
Environmental Responsibility
While nylon is not a natural fabric, that doesn't mean it's not sustainable. To say that a product or fabric is sustainable is not just about the origin of the raw material alone.  It encompasses all the inputs and resources it takes to make a finished product and the manner in which those resources are brought to market and utilized; how long the product can be used until it wears out; and if a viable means for collecting, recycling or repurposing exists. Companies like Designtex, which produces upholstery fabric and other textiles, have identified many opportunities along the textile production and distribution process to attain big-picture sustainability company-wide.
Norix appreciates the strides Designtex has made with regard to developing sustainable manufacturing processes and is pleased to offer an extreme-performance (EP), solution-dyed nylon upholstery fabric from the manufacturer's Environmental Design collection. Fabrics, wallcoverings, and other textiles earning the ED (Environmental Design) mark demonstrate tenets of sustainability such as being low-emitting; offering a long useful life; being recyclable or compostable; or being produced in facilities that work to reduce their overall carbon footprint.
Design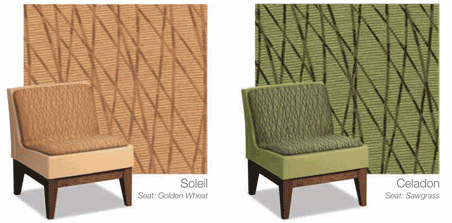 Norix design consultants selected the EP and ED rated nylon upholstery fabric called Sugar Shoots for our new Forté™ Series of contract furniture. The pattern mimics the architectural quality of sugar cane plants, creating a strong graphic appeal through intersecting lines and tonal variations. The fabric and pattern spoke to us on several levels – because of its unbeatable performance attributes and the versatility it affords to designers of commercial, healthcare, and hospitality interiors.
Sugar Shoots Has It All
The fibers that go into the fabric are not texturized so they have that silken sheen quality which resists moisture, bacteria, and mildew.
In addition to the innate qualities of nylon, Sugar Shoots has an additional stain-resistant coating.
The fabric has an acrylic backing which also helps to keep moisture from wicking into the foam cushion below. This second membrane will not be abraded or rubbed off as it is underneath the tougher nylon layer.
Norix offers Sugar Shoots in 8 popular colorways that harmonize with our Forté™ Series seating, making selection effortless. Designtex offers an additional 6 colorways.
Sugar Shoots is part of The Josephine Collection which includes the new Polyester with Agion® cubicle panels by Designtex. Their Polyester with Agion® fabric Sugar Lash (which can be used for drapery applications as well), is a post-consumer, eco-poly made from PET bottles. The cutting-edge Agion silver and copper ion technology gives the fabric anti-microbial properties that cannot be washed away. It discourages bacterial growth, mold, mildew, and fungi both at the base fiber level and in the final weave as well.
Sugar Shoots can be cleaned with common water-based products, has an abrasion rating of 100,000 rubs, and has a 10-year warranty from the manufacturer.
Utilizing Designtex solution-dyed nylon fabrics can contribute credits to a LEED project. For points information, view the Leed CI Matrix.
You can view images of Forté™ Series seating with seat cushions (optional) upholstered with Sugar Shoots fabric by visiting our website.
Be sure to share this information with others who may be interested in sustainable fabrics, extreme-performance fabrics, commercial interiors, or contract furnishings. You can view the full line of fabrics from Norix and even download the latest brochure. Or, if you are interested in watching a video, check out the Materiality video on fabrics here.