Video Visitation Usage in State Prisons the Subject of Study Conducted by Justice Advocacy Group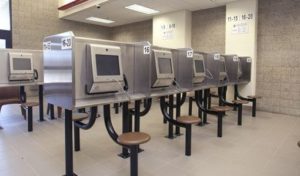 A leading advocacy group that uses research and innovation to work with government officials in making justice systems more fair recently released the findings of a research project that began in 2013 in which they analyzed video visitation usage in all 50 state prison systems in the United States.
The Vera Institute of Justice, which advocates for a "society that respects the dignity of every person and safeguards justice for everyone," earlier this year published A New Role for Technology? Implementing Video Visitation in Prison, an expansive look at how, when, where and why video visitation is being used in this country.
An emerging – but not necessarily new – trend in corrections, video visitation uses video-conferencing technologies that allow inmates and their family/friends to see and communicate with each other through monitors or other electronic devices while each party is at a different location or facility.
It is believed by some and research has indicated that the benefits of video visitation include:
Reduced costs for facilities since fewer hours are used to move inmates to visitation areas
Online registration and scheduling improve ease and accessibility for visitors
Reduced lines and wait times for visitor check-in
More visits can be conducted and visitation hours expanded without additional staff
Decreased contraband transfer between visitor and inmate since each party is at a different location
For the study, Vera sent a survey to the state corrections departments in 2014 and asked about their experiences with video visitation or whether they had plans to implement the technology in the future. Questions asked intended to discover usage levels and costs, and the "perceived benefits and challenges" the departments had experienced. At the time of the survey, 15 states were using video visitation, nine states were in the process of implementation, seven stated that they intended to use the technology, while 14 had no plans for implementation. The remaining five states did not report their intentions or were undecided.
After analyzing the data that was returned by all 50 states, Vera then conducted a second survey to collect additional information from the state of Washington, who at the time had recently began implementing video visitation in its prisons. It also interviewed those involved with Washington's video visitation technology and surveyed 211 inmates at three prisons regarding their experience with the video visitation.
This blog post merely summarizes the report's exhaustive findings, which deeply analyzes the following:
How prevalent video visitation is in the United States
Washington state's experience with and usage of video visitation
The costs involved with the implementation and usage of this technology
The challenges that accompany the implementation of video visitation
How frequently it is used and what kind of experience inmates receive
For certain, video visitation is a useful concept that keeps facilities safe and ensures that prisoners have opportunities to visit with loved ones and others. Opponents, however, fear that video visitation may replace in-person visitation and inmates will miss out on real-life contacts with visitors, including their children.
In short, the Vera study concludes that video visitation is likely to expand in the coming years and that once-reluctant correctional facilities increasingly believe that the "security capabilities and functionality of new systems are sufficiently developed to meet their needs."
Additionally, among other findings, the Vera research confirmed that video visitation provides a solution for prisoners held a long way from their family and communities. And "As long as this practice continues, video visits may be the only available means some people have to communicate with family members face-to-face."
Norix Furniture has written extensively on this topic and recently published a white paper entitled The Benefits of Video Visitation in Correctional Facilities. And while our company is a leading provider of correctional furniture and video visitation products, we deeply believe that, when possible, this technology should serve as a complement and not a complete replacement for in-person visits – those special times where loved ones are reminded that a father, mother or brother is an actual living, breathing being, and not just an image on a screen in some distance prison or jail.