Prodigy represents years of innovation to produce a home-like bedroom furniture collection built for highly demanding environments. Prodigy is a  truly stunning line of furniture built to the highest of standards in durability, safety, and cleanability.
For years, behavioral healthcare professionals have had few choices in furniture built for demanding environments.  Suitable furniture was often institutional in design and aesthetics.  Research has proven that residential environments lead to positive outcomes in the health and well-being of patients and staff.  Warm natural light, color, and home-like furnishings improve mental states.  Understanding this, Norix took on the challenge of creating a genuinely wood-like bedroom set without the typical security and durability drawbacks of real wood.  From the beginning, the mantra was to create "the warmth of wood and the performance of polymer."  Norix engineers took on this challenge and developed a unique process and formula to create TruGrain™ technology.  Never before has a polymer furniture piece so accurately resembled real wood furniture.  Norix Tru-Grain combines both the texture and intricate color striations of real wood.

In addition to the pleasant appearance, Norix has continued its tradition of including industry-leading durability, safety, and cleanability in Prodigy.  Years of innovation with the help of feedback from industry professionals have culminated in a product built to withstand in demanding environments.  
Prodigy, like all Norix products, is highly durable.   Norix production technology provides reliable density and thickness throughout ensuring strength in corners and transitions.  The design withstands impacts and tampering to ensure confidence when placed in unsupervised areas.  Built for high static loads and impacts, professionals agree that Prodigy by Norix provides unmatched long-term value.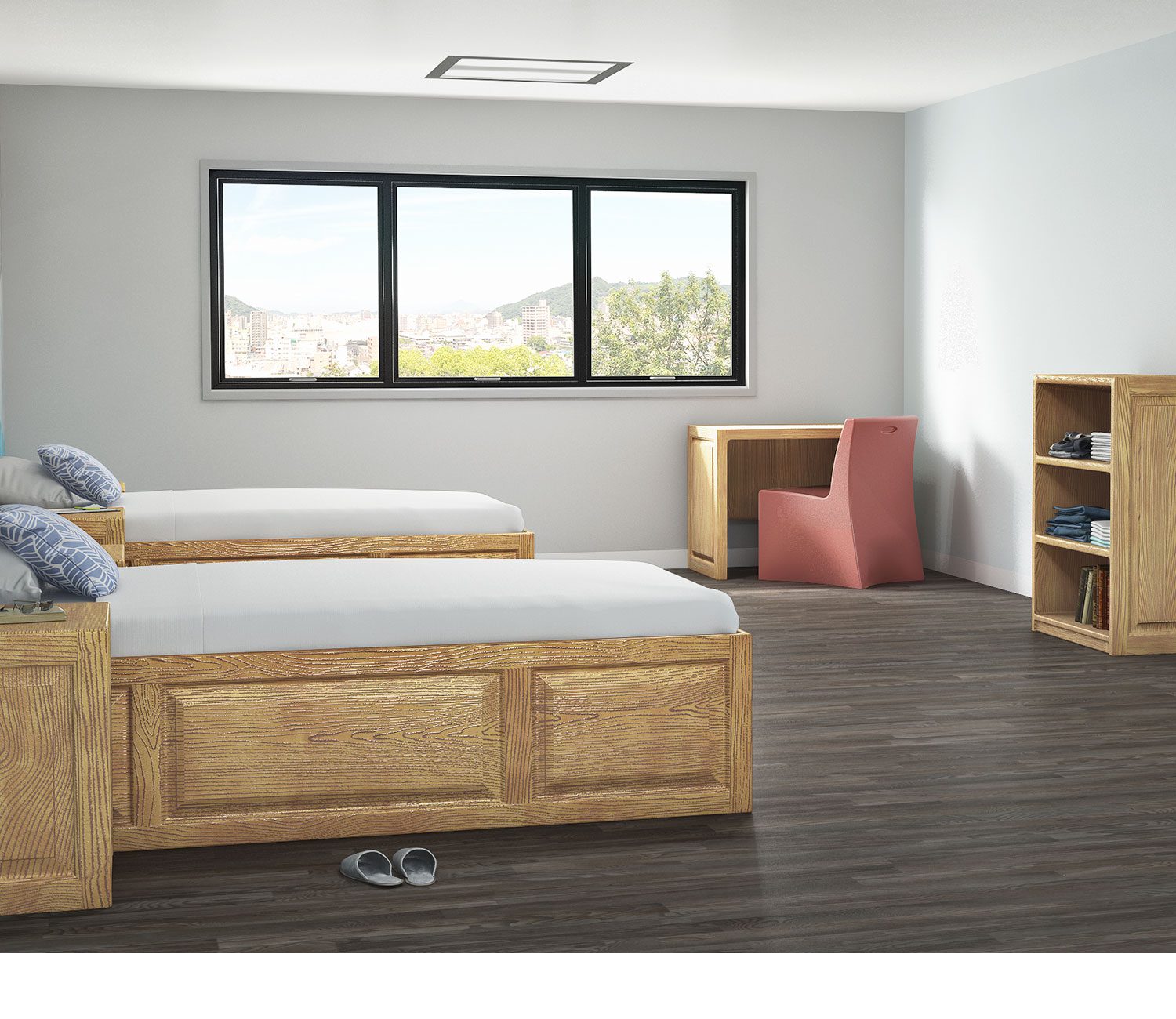 Safety features built into Prodigy include a concealed hidden mounting system designed to secure the bedroom line to the floor and an anti-ligature structure.  The flush mounting system eliminates contraband opportunities, and the one-piece design eliminates ligature points.
Cleaning Prodigy is accomplished confidently with a seamless design and ability to withstand cleaners, including bleach and hospital-grade disinfectants.  The non-porous, one-piece design eliminates hidden areas for fluids to collect, making cleaning simple.  
Prodigy represents the pinnacle of Norix design, combining a genuinely home-like bedroom collection with the highest standards in durability, safety, and cleanability.  It is at the vanguard of innovation and represents a remarkable breakthrough in behavioral healthcare design.  Find out more about Prodigy at https://norix.com/.
Explore more about Prodigy here.
Video: The Prodigy Bedroom Collection