From the Warehouse: Beautifully Upholstered, Highly Durable Harmony Arm Chairs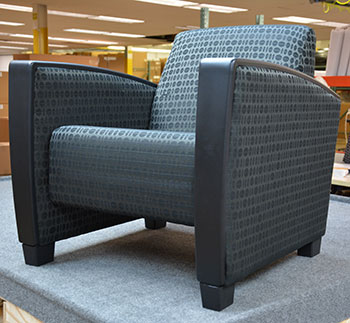 For your viewing pleasure, here is another installment of our blog series "From the Warehouse," an unfiltered look at our furniture products just before they are shipped to actual customers just like you.
In this blog post, we feature our Harmony Series, seating that blends form and function to deliver the unique combination of exceptional durability and a residential look for facilities that need humanizing products for their challenging environments.
Pictured here is the Harmony Arm Chair, both robust and attractive due to its internal steel frame, clean design lines and wide array of upholstery options. Ergonomic arms, generous seat width and cushioned support provide comfortable lounging and easy egress.
The upholstery covering the chair is called Mercury, an available option through our . The patterned fabric is sleek due to its dark, monochromatic colors, yet retro because of its 1960s-ish round and oval patterns.
Learn more about our Harmony Series and our upholstery options here.
Related: