From the Warehouse: Highly Durable, Aesthetically Pleasing Wink Lounge Chair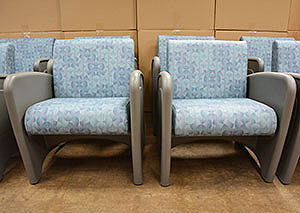 For your viewing pleasure, here is another installment of our blog series "From the Warehouse," an unfiltered look at our furniture products just before they are shipped to actual customers just like you.
In this blog post we feature Wink ™, our newly envisioned lounge chair with attitude, aesthetics and durability to boot. It's a cure for the ordinary, with a wide array of colors and fabrics to choose from.
Unlike similar products which mix wood frames and upholstery, Wink features a sturdy, one-piece rotationally molded polyethylene frame with a lightly textured surface that allows for easy cleaning. Wink cushions are fully upholstered and filled with polyurethane foam and connected to the frame with tamper-resistant hardware and molded-in steel inserts for a secure steel-to-steel connection. Additionally, the chair features wipe out spaces on the sides and a clean out space behind the seat so you can keep this chair clean for years to come.
Visit our Wink webpage to learn more about the product and to watch our commercial and durability videos.