Steel furniture a viable residential option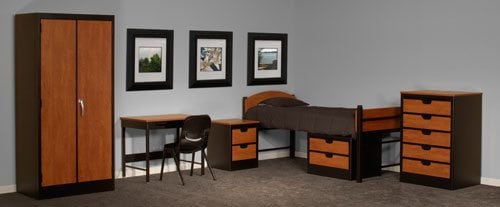 Norix Titan® Series Steel Furniture
Steel furniture. These two words may conjure up images of bunk beds, metal lockers, and other rigid furniture used decades ago in institutional environments that placed more consideration on strength and durability than aesthetics, safety, and residential design. These places were often thought of as grim and uninviting, and contained furniture that few would consider using in their personal environment.
Fast forward to today and you will find that progressive companies are manufacturing steel furniture that not only has the durability and strength needed for intensive-use settings, but also the safety, functionality, and aesthetics of residential pieces.
The bed frames and other pieces may be made of the same material as in decades past, but alterations in design and engineering have brought steel furniture into the modern age, where it is broadly used in hospitals, lodging, unaccompanied personnel housing, and other residential type facilities found worldwide.
A Residential Look
Some of today's steel furniture comes with institutional-grade, high-pressure laminate with grain finishes for tabletops and drawers, bed headboards and side panels, cabinet doors, and other furniture parts.
This option gives steel a sense of style found in residential settings where function and design are equally important.
Gone are the rigid metal frames with sharp edges and unflattering colors. Some of today's steel furniture features rounded edges that provide safety and enticing design that is perfect for humanizing intensive-use temporary housing. Several manufacturers also are producing steel pieces in a variety of powder-coat colors that give buyers the option of selecting custom pieces that are right for their facilities.
The spectrum of furniture pieces also has expanded. Producers now offer full lines of furniture that go well beyond just beds, and include pieces such as tables, nightstands, chests, wardrobes, and other associated pieces that round out the typical furniture groupings found in homes.
Still Going Strong
While there have been changes made in terms of steel furniture design, this is not to say that form no longer follows function.
Today's steel furniture is as tough and durable as it has been in the past and is still a stronger and more sustainable option when compared to wood. Today's beds can weigh in at more than 200 pounds, can be constructed to support loads up to 500 pounds, and can remain freestanding or anchored to the floor or wall for additional strength and support. Beds can come equipped with welded end frames and mattress decks made of 18-gauge steel that provide more strength than standard bed-spring joints and other assembly pieces.
Many chairs, tables, and drawers are constructed with this same strength, endurance, and engineering, and lack many of the moving parts that are found on some lines of furniture. These moving parts are often delicately attached to the furniture itself with screws or other assemblage. Oftentimes these moving parts break down, making it necessary to replace the furniture after short periods of time.
Select steel furniture can offer solutions to this problem, including drawer guide systems that are welded to the drawer body instead of being screwed or fastened in some other fashion, wardrobes that feature hinges welded to cabinet frames for strength and durability, and incorporate mechanisms in cabinets that lock all drawers and allow for padlocks.
Battling Bed Bugs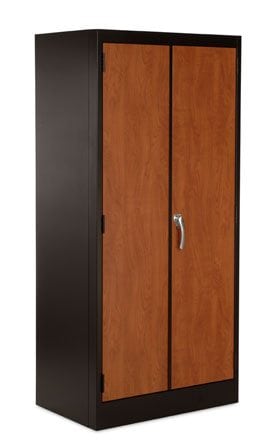 Aside from the great strides made in the design and engineering of steel furniture, the material itself helps in combating one very persistent challenge: bed bugs.
Currently, there are several research projects being conducted on why the United States has seen an increase in the pesky insects during the past two decades.
In fact, in 2010, the Centers for Disease Control and Prevention and the Environmental Protection Agency released this joint statement: "The United States is one of many countries now experiencing an alarming resurgence in the population of bed bugs."
The problem has become so alarming that the military published a guide in 2012 that outlines how to identify and control bed bugs in military settings.
But bed bugs do not like steel. The insects travel from facility to facility via humans and their belongings and often find refuge in the crevices and grain in the wood furniture found in the dormitory- or temporary-style housing frequently used on military bases.
Although no furniture is completely bed-bug proof, steel furniture is bedbug resistant and is easy to clean, treat, reuse, and does not contain wood grain.
Lastly, mattresses with an inverted seam and antimicrobial nylon cover provide an extra safeguard against the pests and assist in keeping them away from the entire unit.
Recyclable Material
But like most manufactured products, nothing is invincible. With all of the design considerations and engineering that goes into the most durable of products, sometimes tremendous amounts of stress can cause even the toughest furniture to break down. If you are using wood products in your facility, a broken sideboard might be biodegradable, but it's not necessarily recyclable. On the other hand, broken steel products can be recycled and the materials can be used again. For green-minded consumers looking for sustainable furniture options, steel is your best choice.
The Facts
The most important facts to remember if you are thinking about choosing steel furniture for your facility are: Steel has shaken its institutional stigma and now is widely produced with residential aesthetic qualities; although steel-furniture production is moving toward a more "homelike" look, the strength and durability have remained consistent; steel is the overall best option in controlling bed-bug outbreaks in your facility; and steel furniture can be recycled, unlike broken wood, which likely must be thrown away.
In a time when our economy is still struggling and defense spending is decreasing, steel furniture is the choice to make if you don't want to find yourself purchasing the same furniture just a few years down the road.
Originally published in the Sep/Oct issue of Defense Communities and released with permission of PHMA.
Dustin Coleman is a brand journalist for Norix Furniture and a contributor to the Safe Environments blog.