Dolphin Center Much More than Just a Research Lab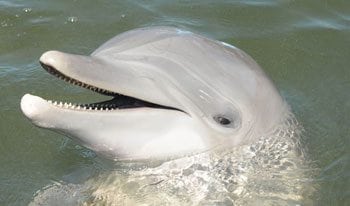 Some people choose to swim with the sharks. Others, more wisely, choose to go to Florida and swim with the dolphins. That's just one of the attractions visitors will find when they visit the Dolphin Research Center (DRC) in Grassy Key, FL, a facility founded as a nonprofit corporation in 1984 to ensure dolphins had a permanent home and that people had a chance to take a dip – among many other interactive opportunities – with these aquatic mammals. The center also conducts groundbreaking research and provides unique education opportunities.
Specifically, the mission of the DRC is to promote "peaceful coexistence, cooperation and communication between marine mammals, humans and the environment we share, with the wellbeing of DRC's animals taking precedence."
"We believe that by bringing individuals into close, one-on-one contact with dolphins, they come to a deeper appreciation for all dolphins – even the ones in the open ocean that will never see a human being," Becky Rhodes, Director of Volunteer Resources, said. "Of the twenty-four dolphins that currently live here, nineteen were born here.  Others came to us from other facilities where they were in human care.  Two were rescued as injured young orphans.  After they were rescued and rehabilitated, they were deemed non-releasable and we offered them a permanent home."
Research has always been an important part of the center, which evolved out of the Institute for Delphinid Research. When DRC's founders took over the facility in 1984, research remained a high priority. The center's in-house research program focuses on three main areas: Cognition, Behavior and Husbandry.  Its world-renowned studies have been published in a variety of scientific journals including the Journal of Comparative Psychology, Animal Cognition, and The International Journal of Comparative Psychology.
But DRC's mission is much, much more than just research.
The center has several programs that anyone can get involved with. There are a variety of dock and in-water programs with different amounts of interaction with the dolphins. Visitors can, as mentioned, swim with the dolphins or choose to play with dolphins, take part in research activities, and even paint with the dolphins. The center also offers two day-long programs that offer in-depth experiences of shadowing professionals as they go about their daily duties: Researcher for a Day and Trainer for a Day.
"Even if you don't want to do an interactive program, there's always something interesting, educational and fun to see," Rhodes said. "We do narrated behavior sessions with the dolphins and sea lions and educational presentations every half an hour.  There's also the Sprayground for splashing fun times."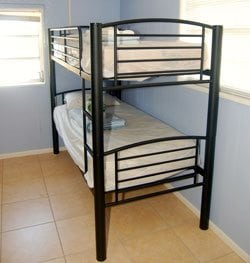 In addition to the research and activities offered at the DRC, the center also has established the College of Marine Mammal Professions, where students can earn an Associate of Science Degree in Marine Mammal Behavior, Care and Training.
Recently, DRC determined that they needed durable furniture for the college residence that houses the students in this program, as well as for the 14-person dormitory used by participants in other week-long and overnight programs.  In particular, they required furniture that would hold up to constant use and the local weather conditions. The center contacted Norix Furniture and purchased 11 Protégé double bunks and seven Comfort Shield mattresses.
The bunks are made of powder-coated 18 and 14 gauge all steel parts and are easy to put together and clean. The product is GreenGuard Gold certified and is manufactured to hold to up to demanding environments. Norix mattresses include an antimicrobial nylon cover and bed-bug resistant inverted seam. The beds are fluid resistant and are manufactured with dual foam padding for maximum comfort.
"We live in a rather harsh environment of high humidity and salt air, so we are always concerned about rust.  The beds and mattresses have been through one college term and still look new," Rhodes said. "We were in a real time crunch when ordering the beds and mattresses.  They arrived exactly as scheduled, well packaged with no damage.  They went together easily and quickly with all parts included."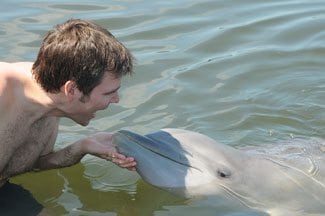 The DRC looked like so much fun that Norix Product Manager Brad Karl and his family decided to make a visit to the center not only to see how the new furniture looked, but also to get up close and personal with the dolphins.
"It's truly amazing how approachable the dolphins are and just how interactive you can be with them," Karl said. "The DRC has a great mission and you can really tell that the dolphins are extremely happy in their home there."
For more information on the Dolphin Research Center, visit their website.