3 Ways Furniture Can Make Residential Treatment Centers More Comfortable
Residential treatment centers have one main objective: create a space that supports recovery without compromising safety.
It's obvious this balance must be sustained from initial patient check-in through final departures, but how? As one of the leading providers of behavioral healthcare and hospital furniture, we've helped transform facilities across the nation into empowering places of healing. Not only does choosing the right furniture promote safe daily operations, but can make a world of difference in keeping both residents and staff comfortable.
Read on to learn how crucial residential treatment center furniture really is to the success of patient recovery – and how easy it is to furnish your facility into the 21st century.
Choosing The Right Furnishing Solutions For Your Treatment Facility
Humanizing an environment that's intended to support recovery can be a challenge. The way a space looks, feels, and ultimately functions is completely contingent on how it's laid out and furnished. For example, rooms hosting group activities require seating for inclusive discussions. Everything from shapes to color selection impacts the way we feel when entering a room. In other words, a lot of options must be considered in order to give each room a sense of purpose. This is why rehabilitation centers must encompass properties aimed to assist their residents on the road to recovery.
3 Ways Residential Treatment Center Furniture Empowers Patients
When furnishing your healing environment, keep the following in mind:
Create The Comfort Of Home With TruGrain Technology
The first night at a residential treatment center is known to be one of the toughest times someone can experience. Simple, yet familiar finishes in a bedroom can help patients settle into their new surroundings. The Prodigy Bedroom Series is a beloved addition to behavioral health settings in every niche. It features TruGrain technology that mimics the look of wood, which gives residents an at-home feel. This technology embraces the warmth of wooden furniture with the added benefit of polymer strength. Easy to clean, ligature resistant, and extremely durable – the series keeps facilities equipped with comfortable furnishings to humanize safe spaces such as a patient's room.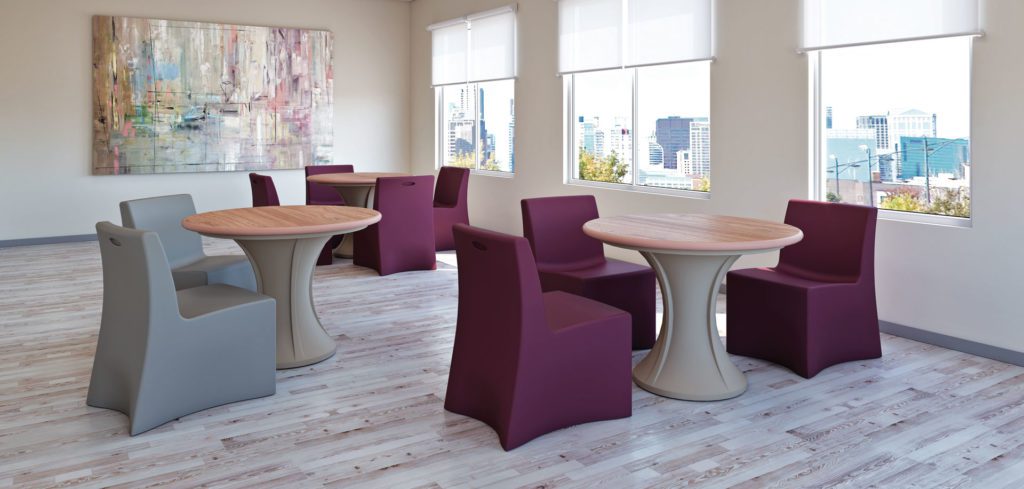 Colorful Environments Keep Residents Engaged & Connected
Utilizing color is one of the easiest ways treatment centers can create therapeutic environments. Basic color theory indicates certain colors can help reduce tension, assist in behavior modification, and ultimately enhance the safety of both residents and staff. When choosing furnishings for your own facility, consider moving away from dull, monochromatic colors and instead opt for colors like green, blue or purple that provide visual interest and positive distraction. These 3 colors alone are known for their calming effect they leave us with.
Need more inspiration? Check out our gallery and see how residential treatment center furniture breathes life into facilities nationwide.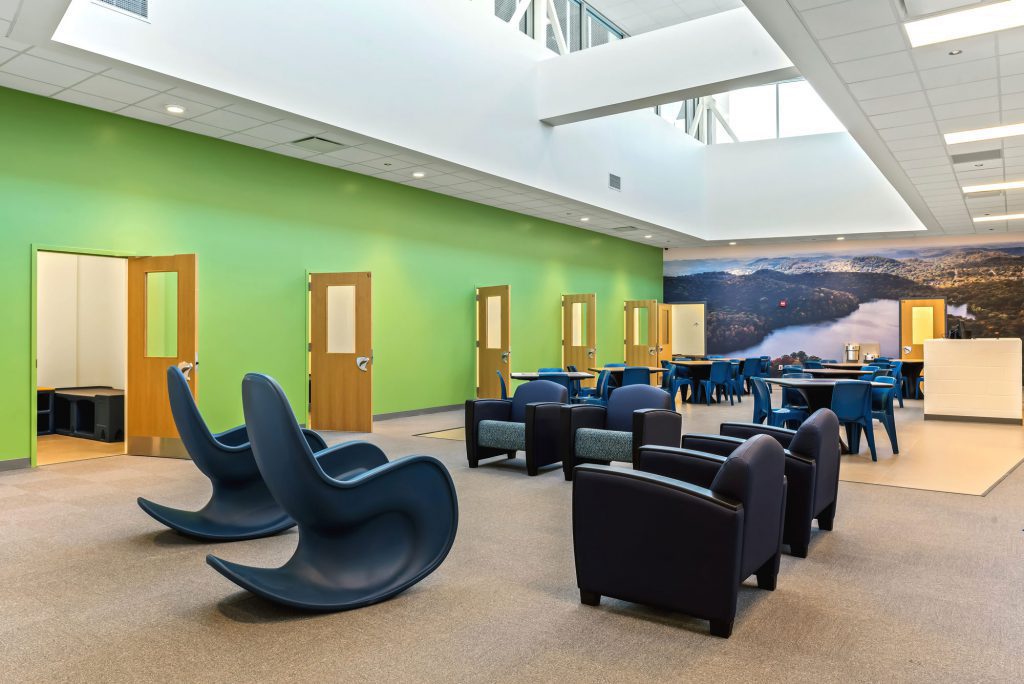 A Single Piece Of Furniture Offers Multiple Benefits
Studies show rocking is a proven self-soothing technique. Moreso, a rocking chair improves balance, blood circulation, and reduces muscle pain – as well as anxiety and depression. These are all common ailments residents in treatment or rehabilitation centers face. By furnishing your facility with a rocking chair, you introduce a multifunctional furniture piece that helps keep residents calm as they go through recovery. The RockSmart Rocker is extremely durable and strong enough to withstand daily use without hindering safety to other residents and staff. Its anti-ligature properties make it the perfect addition to community areas or private spaces like a bedroom or counseling room.
Looking for something more stationary? The Integra Chair creates multipurpose spaces and is strong enough to withstand the hospital-grade cleaners your facility uses.
Support Residents In Their Healing Journey With Intentional, Effective Furniture
More and more treatment centers are reconfiguring their spaces to include more color and function than ever before. Choosing furniture for your facility starts with understanding the ways in which you need your furniture to support residents. Set them up for success by furnishing sleeping areas with warm, welcoming finishes. Remember to opt for color when the opportunity presents itself and know that it's okay to start with single furniture pieces that help residents self-soothe. As long as momentum isn't lost, it'll be no time at all before your residential treatment center is completely furnished with seating, sleeping, and dining arrangements that holistically support recovery and safety.
Looking to give your behavioral health facility a fresh look? Talk to a Norix representative today for a custom quote!