Versatility and Social Interaction Key Trends in Employee Lunchroom Design
Designers of modern office interiors point out that changing modalities in the way we work has influenced the way employee lunchrooms are designed and equipped. The new lunchroom does not look like or operate like the ones from a decade ago. The location, décor, utilization and functionality have all changed, according to Danny Chase of Chase Office Interiors.
Architects and designers with a finger on the pulse of how millennials work have seen this trend develop.  "Today's lunchrooms are more likely to resemble a Starbucks than the dreary place of yesteryear," says John Campbell of the architecture and design firm Francis Cauffman, who was quoted in an article published by The Daily Record in Baltimore, MD.
Younger employees, while they were students "…learned how to work in a collaborative environment and that attitude comes with them to the office. With laptops, workers are no longer tethered to a desk – they can work anywhere, anytime." Campbell goes on to say that teamwork in the office is becoming more and more important as evidenced in the way they now design spaces. "Traditionally, 80% of work was individually focused and 20% was part of a team. Now it is more along the lines of 60% being individually driven and the remaining 40% as part of a team." Campbell further adds "what we have noticed is that as employees' personal spaces got smaller, the collaborative spaces became larger. Consequently, we design social hubs."
With a greater number of people who say they work through lunch, a higher level of team collaboration, the mobility of wireless devices, and a coffee-house culture, the company lunchroom has become a casual, multi-purpose eating, working, and meeting space.  "We design a variety of spaces to suit different activities, including small conference rooms for two to three people…and we make these 'town-centers' very visible when we are designing a building." That visibility allows employees which may not have an occasion interact with someone from a different department or echelon greater opportunities meet and share information across structural boundaries. This type of egalitarian space is highly favored by younger workers who are less tolerant of the old, hierarchical workplace.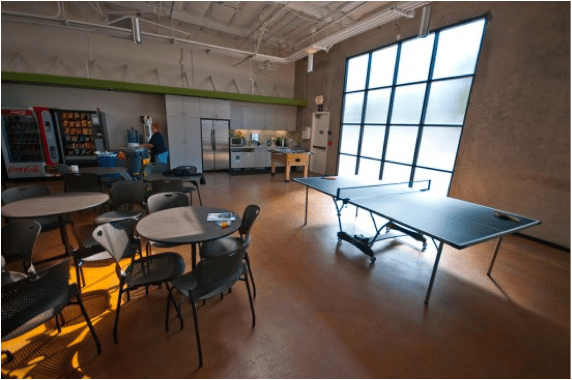 Larger companies, especially those in creative or high tech industries may have adjoining game rooms or other multi-use, open spaces where employees can mingle, re-charge their batteries, or blow off steam. However, the new style of lunchroom design can also work in more serious, traditional professions such as law practices.
In a 2-part blog on innovative lunchrooms in law offices, Danny Chase recommends creating a spacious and comfortable area with abundant natural light, which is especially appealing to young lawyers who may work in spaces without windows. The space and the furnishings should be easily re-configurable, and the décor should be different from other parts of the firm so that people will feel they are "getting away" when they enter the lunchroom. To address a key concern in law firms to protect confidentiality, there should be adjoining break-out rooms or movable panels to create private conversation nooks with comfortable, small-group seating.
Designers can find the right mix of employee dining and lounge furniture from Norix to create these collaborative "town center" style eating/working spaces or game rooms. Colorful and lightweight dining chairs from the Progress line are passive ergonomic stackable chairs that can be ordered as a sidechair, a linking sidechair, or an armchair. Progress chairs have molded, polypropylene seats that are also available in upholstered versions. View furniture colors and options at Norix.com
Now, for what to serve at one of these new-style lunch rooms, check out the menu at Google's New York office cafeteria. For more lunchroom design suggestions for law firms or other companies read the Chase blog post on Innovative Lunchrooms Through Office Design as well as an article from the real estate section in D Magazine. The article, Office Design for the New Millennial by Mary Medland is available at The Daily Record
Please share this post with anyone who may be interested in office design, employee lunch rooms, or employee break rooms.