Upcoming Series: What to Look for in Robust Furniture
Norix Furniture blog series to look at the many variables to consider when purchasing products for challenging environments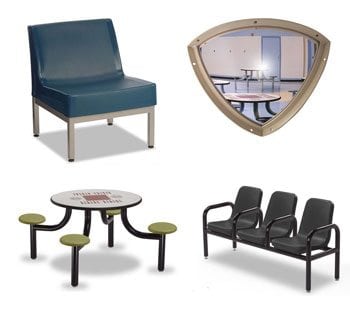 It's the time of the season when everyone is looking back at the past year and looking forward to the next. Two weeks ago, we at Norix Furniture reviewed what we accomplished with our Safe Environments blog in 2013 and offered up our top posts of the year. Now, with this blog post, we would like to take some time to look forward and offer readers some insight into what they can expect in 2014.
In particular, during the next year, we plan to take a look at the core of our business model and dive deep into one specific topic: What makes furniture robust? For 30 years, Norix Furniture has provided products for some of the most challenging environments in the world – prisons, behavioral healthcare environments, military bases, public safety facilities and other similar spaces. With this in mind, we would like to think we have learned a couple of things during this time.
In 2014, we will produce an ongoing series of blog posts that will investigate what it takes for furniture to be considered truly robust and highly durable. We will share some of our knowledge with you – the consumer – to ensure that you make the right decision and are actually buying products that are suited for your facility.
We could write a 1,000 words and give a brief overview on the subject, but we feel there is much more to discuss. For example, topics that we plan to review in the series include:
Materials – Plastics, steel, wood or a mixture of these materials are common in many furniture products, but which one works in which environments? And how do you know the material can stand up to pressures put upon it in your facility?
Hardware – You might have a durable table with metal legs and pressure-mounted tops, but what is holding it together? Hardware is an important part of the furniture structure that is often overlooked. We will take a look at what questions you should ask regarding the "nuts and bolts" of your products.
Testing and certifications – Flammability tests? Bifma? GREENGUARD? The list could go on and on. We will demystify the common tests and certifications and decode what they mean for you the consumer.
Security – You need chairs for your intensive-use facility, but which ones will contribute to the security in your environment and which ones will create potential hazards? We will describe in detail different chair types and how each provides security for a variety of facilities.
Sanitation, cleaning and the life of your products – In many cases, it's not as simple as soap and water and a damp wash cloth. Sanitation and cleaning considerations are key factors in keeping both your furniture investment – and those who use it – safe.
We also would like to hear from you. What questions do you have regarding durable furniture? Help us with this conversation and let us know which topics you would like us to review. Email us at communications@norix.com.
Dustin Coleman is a brand journalist for Norix Furniture and a contributor to the Safe Environments blog.