The Ultimate Furniture Guide For Fire Stations
You know the saying: If you can't take the heat, stay out of the kitchen.
This statement is just as true for furniture, especially fire station furniture, as it is for people. Maximizing the layout of sleeping quarters, as well as recreational and dining areas, is crucial when it comes to purchasing furniture for the station. You should be looking for tested and true options when it comes to bedding, seating, and tables alike. We're not talking about residential-grade furniture here. You need products with durable finishes that welcome your crew home, from the start of their shift to their return from a chaotic call.
Before you start getting quotes from manufacturers, it's important to understand why fire and rescue facilities need specialized furniture to keep everyone in a healthy state of mind.
Firehouses Need Durable Furniture
With three shifts a day, every day, you need dependable solutions that can withstand constant, 24/7 use. Firefighters should be welcomed to the station with inviting furniture that reminds them of home – and is intended to be used in this specific environment. Browsing heavy duty recliners and sofas alone isn't enough. While big brands such as La-Z Boy advertise their furniture as hardwearing, their products don't come close to the durability tested fire station furniture Norix offers. Our furniture is designed to keep every room both comfortable and supportive for whatever the day (or night) may bring.
Options For Every Room At The Station
Seating
Fire tough seating should be your priority. The Progress Chair is an ergonomic, stackable chair. In our experience designing fire and rescue facilities, everyone benefits when multipurpose, supportive seating is utilized throughout the space. Whether it's in a training room, lobby, or office, or just around the table, Progress looks good in any environment. 
Modular seating options are also ideal for firehouses. The Forma Series is designed to centralize all seating needs. With 10 pieces to choose from, you can bring in upholstered arm chairs, cubes, benches, and wedges to add the perfect touch of comfort that will help your crew relax.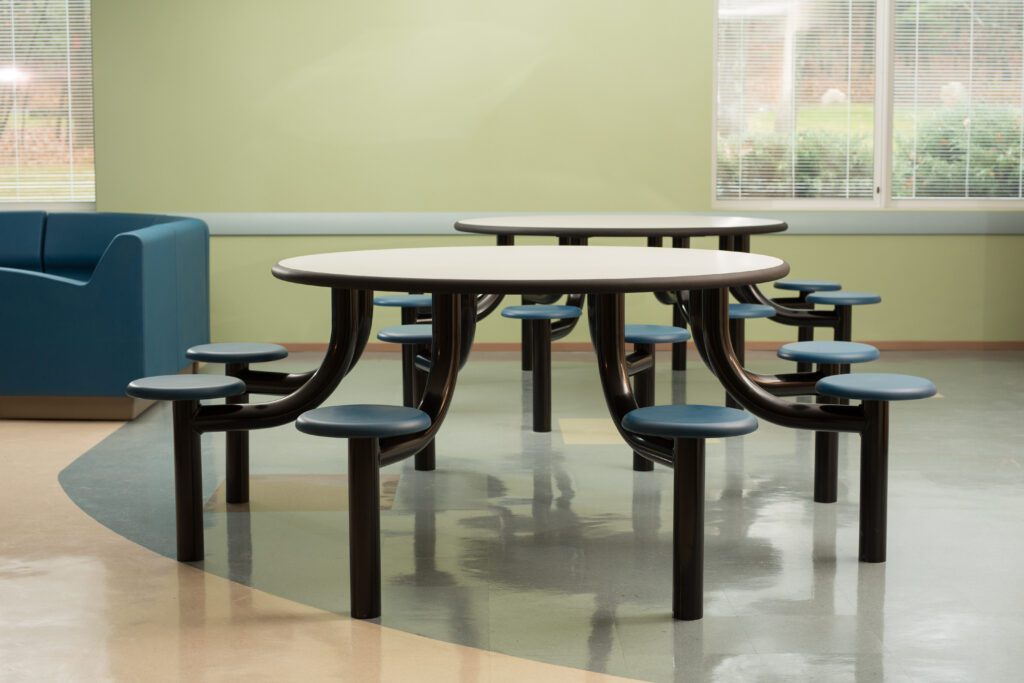 Tables
From coffee tables to rectangular, round, and X-base multi-seating tables, reliable performance is crucial for any fire station. Norix's Max-Master commercial furniture series is especially well suited for dining halls. The unique individual seat/leg design of Max-Master tables provides superior stability in comparison with traditional pedestal tables, whether bolted to the floor or freestanding on adjustable glides. Steel leg design and compression molded composite seats make this line the ultimate choice for continuous daily use.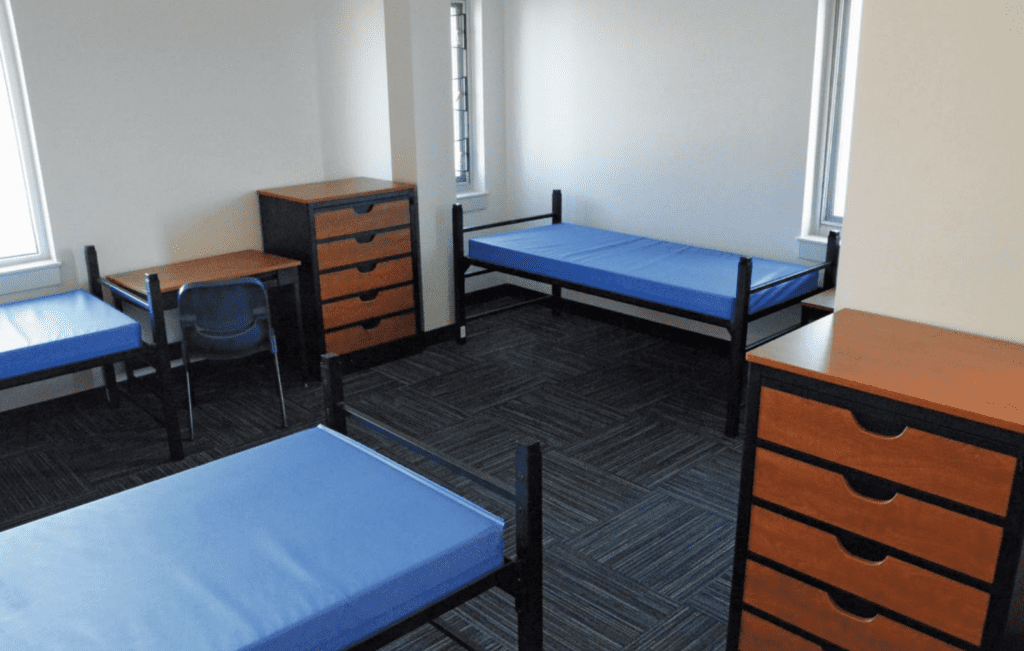 Bunk Rooms
The perk of purchasing a set of furniture for fire station bunk rooms goes beyond its visual appeal to consistent, trusted durability in each piece. A favored line amongst fire and rescue facilities alike? The Titan Series. Think steel dorm furniture with a residential look and feel thanks to wood grain accents. Your crew will feel right at home knowing their personal items are safe in secure, durable drawers and tamper-resistant equipment. Bunkable bed frames, nightstands, desks, and wardrobes are all available in this highly sought-after line. As a preferred fire station furniture vendor throughout the U.S., our team is very familiar with working alongside teams to keep all furnishings within set budgets.
Seeing is believing: Normal, IL Fire Department still reaps the benefits of their custom space design. Check out the final results and see for yourself.
Your Fire Station Furniture Should Be As Resilient As Your Crew
Challenging environments such as firehouses require furnishings resilient enough to withstand ongoing use, be it by a volunteer crew or the next shift coming in. Stick with trusted fire station furniture vendors that have worked with departments big and small to find the right solutions based on specific layouts, rooms, and needs. Norix has products for every space and offers an extensive collection of heavy duty seating, dining, and bunk room furniture with customizable upholstery and colors to help your crew settle in with ease.
Browse our gallery of recent projects to see our full scope of capabilities or find a representative in your area to get your custom quote!