The Role Furniture Plays In Successful Inmate Rehabilitation
Can furniture really impact the overall success of non-violent inmate rehabilitation?
Our sources (and studies) say yes.
Prison detention centers and justice-focused institutions such as police stations must seek furniture solutions that humanize all settings in which detainees are housed. These solutions must not only be high in quality and durability, but designed to reshape the inmate experience and physical environment altogether.
And while some may argue that inmate accommodations should be limited to a metal bed frame and bleak surroundings, there is no denying the effectiveness of normalized correctional environments and the role they play in reintegrating people back into society. When decision-makers choose to add a touch of humanity to their prisons, detention centers, jails, and staff quarters, it forms the initial foundation for successful rehabilitation.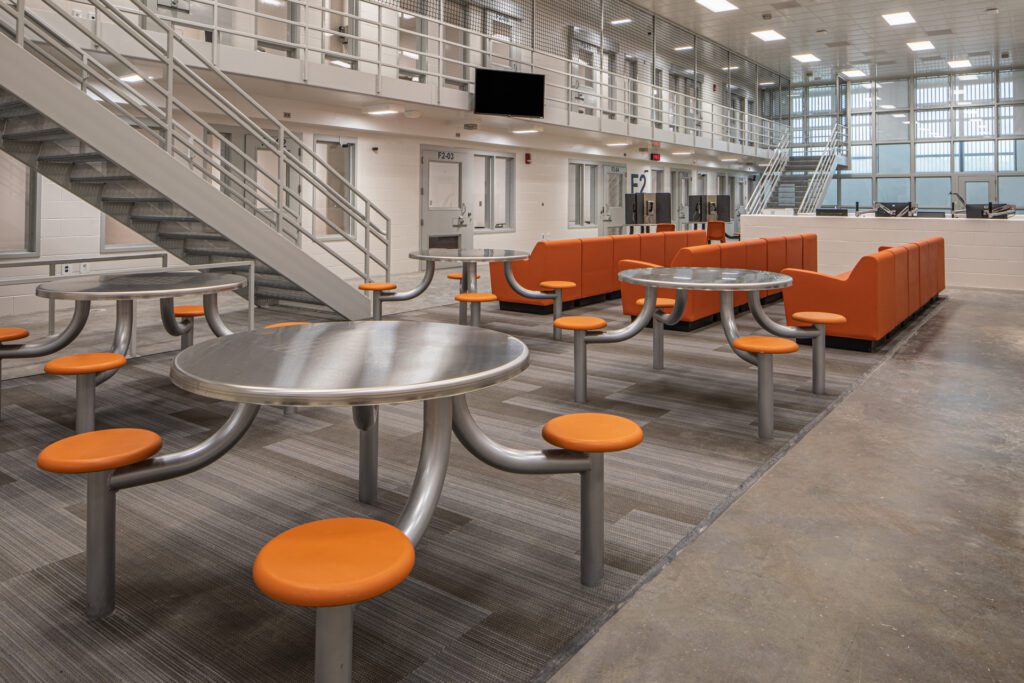 A New Take On Institutional Design & Function
Contrary to outdated perspectives, prison design plays a huge part in effective rehabilitation. 2022 correctional trends feature bright colors – replacing gray, cold, steel beds and chairs that can gradually hinder mental health. Modern facilities are opting for residential-looking, anti-ligature furniture brands such as the Vesta Seating Series and Max-Master Tables. Both brands exceed the rigorous standards correctional facilities must meet, while simultaneously curating a normalized environment for inmates and staff alike.
These are the sorts of small changes our system must make if it wants to reach the milestones that facilities in other countries are achieving:
Decreased inmate violence
Officers and supporting staff more at ease
Non-violent inmates less likely to reoffend and more likely to successfully reintegrate back into society
Though these benefits often must be weighed against concerns about budget and logistics, ultimately, the real question is about effectiveness. Norix has specialized in prison furniture manufacturing for over 35 years. This experience has allowed us to design high-quality, heavy duty furniture and make it accessible throughout the country.
CASE STUDY: Juvenile Corrections – Philadelphia Youth Center >>
Shifting Focus From Punishment To Rehabilitation
Compared to progressive methods of rehabilitation, punishment-based systems see lower rates of successful inmate reintegration. Rehabilitation-focused environments give the incarcerated population unique tools to apply in the real world once their time is served. Take gardening, for example. A participating inmate gains a new skill that can help them get a job while providing a therapeutic outlet to channel frustrations – which would otherwise fester into violence during their sentence. That's on top of the improved exterior environment that inmates, staff, and visitors can enjoy.
Now, there is also mental health to consider – and environment plays a role in the matter. It's no secret that people suffering from psychiatric illnesses may be more likely to commit crimes, but that doesn't mean they should be discarded by society. This is where the look, feel, and function of space become a catalyst for rehabilitation. With the stigma of mental health in the past, justice-focused facilities have access to different resources to normalize environments and help prepare inmates to step back out into society with a lower risk of recidivism.
Not only is partnering with an experienced correctional furniture solutions provider an effective way to humanize institutions, it helps ensure your facility's design, function, and safety needs are met. Sourcing tamper-resistant, easily cleanable chairs, tables, and mattresses can be a challenge. Norix has an entire catalog dedicated to contraband-resistant options for men's, womens, and juvenile institutions.
DOWNLOAD: Norix 2022 Justice Furniture Brochure >>
Successful Inmate Rehabilitation Requires Humanized Environments
Correctional, detention, and police facilities are tasked with maintaining a safe environment for both offenders and staff. These environments need to be not only secure, but designed to rehabilitate whenever possible. Without progressive trends such as normalized environments, successful inmate reintegration becomes decidedly more difficult. Residential-looking furnishing solutions with bright colors may be part of the solution for our country's correctional system. Norix creates furniture that is robust for every application and engineered for the most difficult environments. Our team has worked alongside justice architects, jail administrators, maintenance staff, and corrections health practitioners to meet rigorous compliancies.
In short, we design for justice. Reach out to us for industry insight on your prison furniture questions, or get a custom quote for your facility online today.