Polyurethane Fabrics Benefit Fitness Studios, Hotel Guests
You might not think that the next key piece of FF&E (Furniture, Fixtures & Equipment), you'd be sourcing would be….a treadmill. But, as reported earlier this year in Hospitality Style, the Westin Hotels & Resorts is taking a design-led approach to its 186 "sweat spots" worldwide, and they aren't alone. Today's style-savvy guests expect hospitality spaces to be chic from door to door. Even traditionally utilitarian spaces have to match the cool of the lobby and guest rooms.
A chic gym space will usually have a lobby or lounging area where guests can comfortably wait for spa appointments, finish cooling down between classes, or hang out until other members of their party finish with their workouts. Furnishings and flooring need to have the same luxury feel as other hotel spaces but offer extra durability and clean-ability.  For style and comfort, upholstered furniture is a sure winner as long as fabrics and surfaces are chosen wisely.  Designers from any industry looking to blend style with performance should consider the performance properties of polyurethane fabrics and wall-coverings, which are well-suited to gym environments in many ways.
Odors like to hang out in gyms, whether it's a weight room, aerobics class, sauna, or pool. Usually part perspiration, part equipment, part chlorine, you don't want furnishings that easily absorb and hold unpleasant smells.
Guests may use the lounge furniture between workouts and before they hit the showers. The fact is people sweat, but hygiene won't be a concern for guests or fitness center staff if furniture is upholstered with polyurethane fabric. Polyurethane is inherently anti-microbial/anti-bacterial, does not absorb liquids, and is easy to wipe down – including the use of a mild bleach solution, if needed. Carlyle by Concertex, available on Forté™, the new line of lounge furniture by Norix, also has a mildew-resistant backing.
Polyurethane faux leathers are very comfortable to sit on, especially with gym clothes that leave a lot of bare skin exposed.  It is soft to the touch and adapts to body temperatures more quickly, so you don't get a harsh initial shock of hot or cold.
Polyurethane faux leathers are the most realistic imitation of genuine leather with respect to hand, surface feel, and overall appearance. When stitched or tufted it actually wrinkles like real leather for a natural, elegant appearance.
In a relaxed atmosphere like a gym, people use furniture differently than they would at home or in a restaurant. They may put their feet up on the cushions, perch on an armrest, or toss a well-travelled duffle bag on a chair. Furniture and finishes in the lounge area need to be durable and maintain a like-new appearance. Polyurethane fabrics offer superior durability – with wear-resistance exceeding 100,000 rubs.  Carlyle by Concertex offers excellent high tensile strength, tear strength, seam strength, flex resistance, UV stability, and crack resistance.
Polyurethane fabric is easy to care for using just mild soap and water.
Polyurethane fabrics don't de-laminate due to heat or moisture like other synthetic fabrics can.
Polyurethane contains no Vinyl Chloride.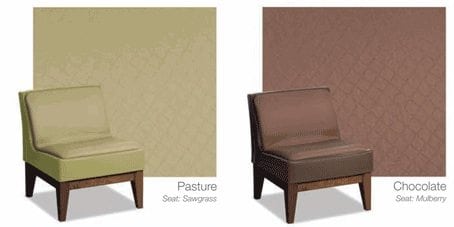 Ultimately, the concept of the super-chic gym is a reflection of how today's guests travel. There is now an expectation that every inch of the hospitality space will surprise and delight, including the gym. With that trend in full swing, designers now have better options for durable and stylish fitness center furnishings with the new Forté™ Series of lounge furniture by Norix.  Pass the yoga mat.
Browse the polyurethane fabrics available for the Norix Forté™ Series of designer furniture along with the complete set of fabric options.
Please share this post with others who are interested in fitness studio design and polyurethane fabrics.
(Portions of this post were excerpted from an article entitled Work it Out  by Mary Scoviak in Hospitality Style magazine.)