Hondo Nuevo: Made Like a Mountain, Includes the View
Have you heard about our Hondo Nuevo® Series? It's our line of unique furniture that combines superior durability and style with chair, bench and wedge options to create modular seating arrangements. Hondo Nuevo® is specially designed for healthcare, hospitality, education, and other commercial interiors where extreme durability is a must.
"Hondo Nuevo offers a solution for many facilities that are looking for extreme durability and an aesthetically pleasing look. This product provides this along with maximum flexibility that allows facilities to mix and match products in a variety of configurations that are best suited for their particular environment," said Norix® Director of Innovation Brad Karl. "If a facility needs multiple love seats with bench options, Hondo Nuevo® can accommodate that. If someone wants to configure chairs and wedges in a serpentine shape down their hallway, this product line can do that as well. Hondo Nuevo® is designed to give facilities freedom – and peace of mind."
The signature piece of this series is the Hondo Nuevo® Chair which combines ergonomically correct style and comfortable lumbar support and comes with or without arms. All pieces of this furniture line – chairs, benches, wedges, stools – are made of rotationally molded, vinyl seats that are attached with security fasteners to your choice of molded plinth, steel, molded wood grain leg or genuine wood leg base options. Additionally, the pieces are filled with 3 lb. density, polyurethane foam filling, for cushioned comfort.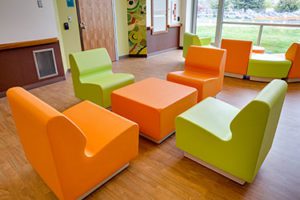 "In addition to its contemporary design, Hondo Nuevo has been put through the most rigorous testing to ensure that it will hold up against the toughest of environments," Karl said. "By design, the molded seats are seamless – with no sewn stitches virtually impervious to fluids and easy to clean."
In particular, Hondo Nuevo is compliant with multiple flammability standards and is resistant to bodily fluids and salt and chlorine solutions. It also is puncture resistant up to 257 pounds per square inch and is GREENGUARD and GREENGUARD Gold Certified after stringent testing showed it to be in compliance with the low emissions standards set by UL Environment for indoor facility use. It also is CAL TB 133 Compliant and passes BIFMA 5.4.
For more information on Hondo Nuevo, please visit https://norix.com/products/seating/hondo-nuevo-seating/.