Norix Innovation: Prodigy TruGrain™ VS. Wood
Furniture refers to movable objects intended to support various human activities such as sitting, eating, and sleeping.  People have been using natural objects, such as tree stumps, rocks, and moss, as furniture since the beginning of human civilization. Archaeological research shows that from around 30,000 years ago, people started to construct and carve their furniture, using wood, stone, and animal bones.
While we rarely see rock and animal bones as furniture in modern times, the use of wood has undoubtedly endured.  Of course, it is the numerous qualities of wood that make it ideal as furniture.  It is a renewable resource crafted by skilled artists into attractive seating, beds, and tables.  Wood has a warm and inviting look.  The colors and texture of wood have organic variety throughout making for an attractive visual appeal.  
Wood Vs. Norix TruGrain™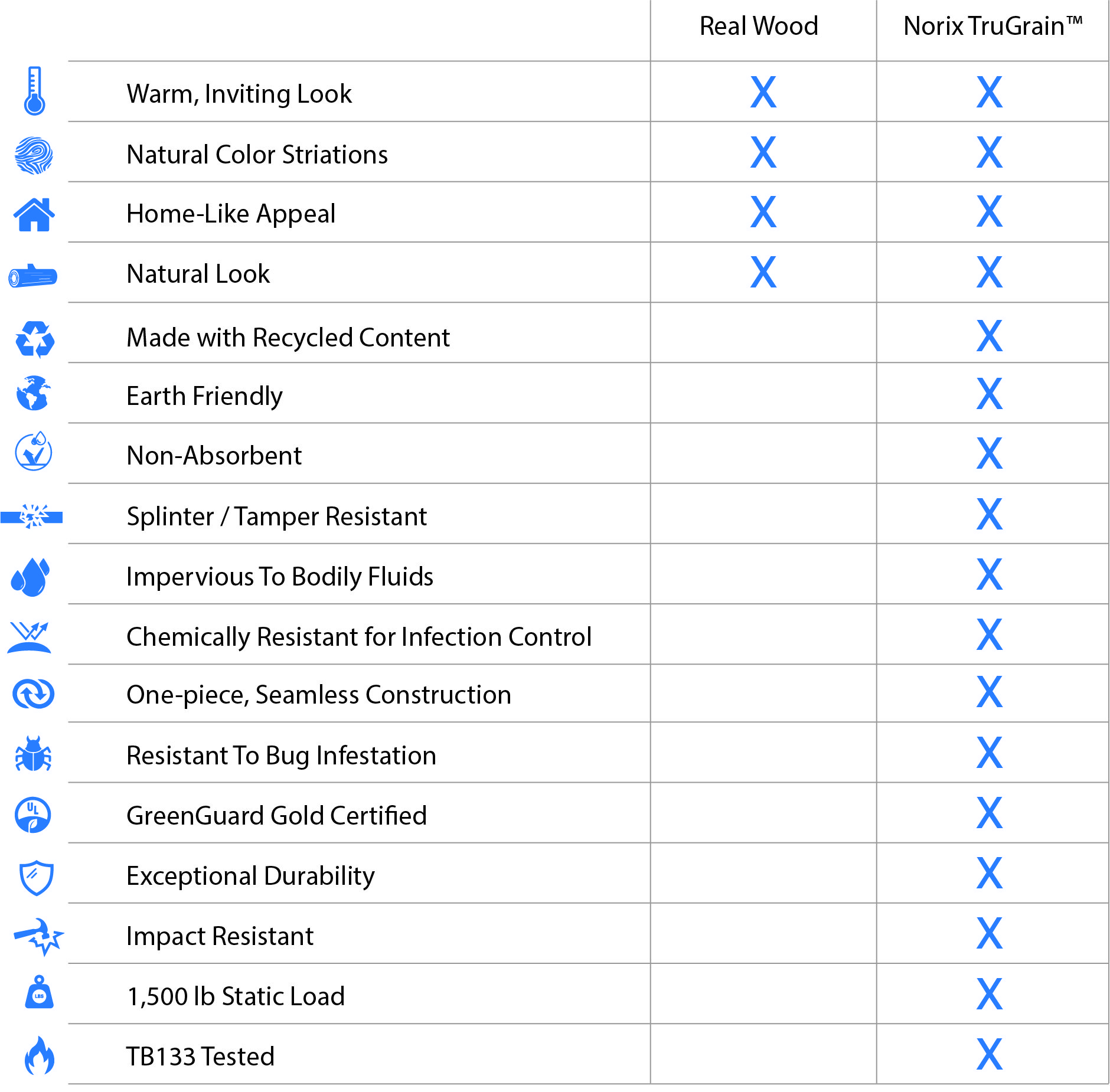 TruGrain™ recreates the beauty of wood in a polymer form.  The natural look of wood on Prodigy bedroom furniture creates a warm, home-like environment for the benefits of staff and patients.  Prodigy also overcomes the downfalls of wood when placed into intensive-use settings.  
The ability to manipulate wood, a clear advantage in the hands of a skilled carpenter, is understandably a clear disadvantage in behavioral healthcare environments.   Unlike wood, Prodigy is tamper-resistant, meaning that contraband cannot be created from it or stashed within it.  The design of Prodigy is inspired by Joint Commission recommendations to eliminate ligature points.  
Prodigy, a one-piece molded polymer with TruGrain™, is water-resistant and stands up to hospital-grade cleaning agents.  This ability to stand up to cleaners means that unlike wood, cleaning and sanitation is completed to infection control standards.  Edge banding on traditional wood furniture is commonly removed exposing areas prone to absorption.  The one-piece molded form or prodigy leaves no difficult to clean or hidden areas.  Common infestations, such as bed bugs, are no longer a concern with prodigy bedroom furniture.  
Wood furniture may come in any number of forms, varying in thickness and density.  With Prodigy, administrators are now able to have wood-like furniture in a dependable and durable structure.  Prodigy is subjected to an onslaught of tests on several fronts, including impact resistance, high (1,500 lb) static loads, cleaning and degradation, thickness uniformity, and more.  Third-party testing includes Greenguard Gold Certification and TB-133 for fire resistance.  The exceptional tested durability of Prodigy easily surpasses the unreliable nature of wood.
Prodigy, featuring TruGrain™, leaves little doubt about its superiority over wood and is a game-changer in behavioral healthcare. Prodigy is proudly made in the United States with recycled content and is recyclable.  The warm and inviting look of Prodigy goes above and beyond to create a safe and humanized environment in the most demanding environments.