Norix Announces Partnership with Leading Warehouse Management Vendor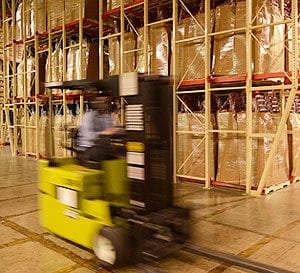 Norix Furniture, a leading manufacturer of robust products for continuous-use environments, announced that it has chosen Manhattan Associates (NASDAQ: MANH), a leading global Supply Chain Commerce Solutions Provider, as its partner to implement their leading Manhattan Supply Chain Architected for Logistics Execution  (SCALE™) Warehouse Management System (WMS) effective immediately.
Norix President Scott Karl announced that the agreement was officially signed in December 2013, and will be installed and implemented in the Norix warehouse in 2014.
"While this is a very significant investment by Norix to partner with the best WMS vendor in the business, it is one of a series of strategic investments which Norix has taken that are within its strategic growth plan that will further distance us from all competition," Karl said.
The Manhattan SCALE warehouse management system is completely automated, utilizing state-of-the-art technology. This automation will be implemented with electronic data interchange which will allow Norix to speak computer-to-computer with vendors and customers while providing impeccable control of inventory and quality control in a radio frequency environment.
"The Manhattan SCALE platform will provide Norix with the agility and scalability needed to rapidly adapt to changing operational needs, providing competitive advantage and operational cost savings," said Darryl Barr, director, Manhattan Associates. "We are thrilled to play such a pivotal role in Norix's long-term strategic growth plan by streamlining their warehouse operations."
Manhattan studies have shown that implementing SCALE at Norix will have a quick return on investment within two years and continue at that rate thereafter, and will also provide closer communications with Norix vendors, sales representatives, and customers for a greater customer experience.
Brad Rollins, Warehouse and Shipping Manager at Norix, will be accountable for the implementation of the SCALE management system.
"Over the last 12 months, we analyzed 10 major WMS vendors in which to partner for our 5-year growth cycle, and choosing Manhattan not only made sense for both of us, but they are the leader in what they do best – manage the warehouse,"  Rollins said. "The renowned Gartner Group ranks Manhattan as the leading WMS vendor in the quadrant, just like Norix is a leading manufacturer for continuous-use environments."
Manhattan's SCALE also comes with IBM's Cognos Business Intelligence product, and allows Norix to have state of the art data for its customers available in real time.  Norix chose to include IBM's Advanced Analytical SCI (Supply Chain Intelligence) product which will allow real time analysis of data stored in a data warehouse to be disseminated to customers, vendors, reps and customer service.
The Epic Group, a management consulting firm in St. Charles, IL, helped manage this WMS project with its President Greg Weismantel working with the Norix team in determining the vendor of preference in which to partner.
"This was probably the most challenging project in selecting a WMS or ERP vendor that my firm has undertaken because Norix wanted the best fit for its strategic growth initiatives, which are significant," Weismantel said. "Manhattan provides an unbelievable fit for Norix in that their SCALE warehouse management system allows every Norix stakeholder to recognize the benefits of this new technology almost immediately."
About Manhattan Associates, Inc.
Manhattan Associates brings companies closer to their customers. We design, build and deliver market-leading Supply Chain Commerce Solutions that drive top line growth by converging front-end sales with back-end supply chain execution and efficiency. Our software, platform technology and unmatched experience help our customers around the world adapt to the challenges of the omni-channel marketplace. For more information, please visit www.manh.com.
 About Norix Furniture
For more than 30 years Norix has provided secure furnishings and fixtures for every application. The product line has expanded to include industries and environments such as corrections, behavioral healthcare, transportation, educational institutions, fire/police stations, commercial facilities and military installations. We surpass common durability by engineering for the most challenging environments to create robust furniture for every application. The privately held company is headquartered in West Chicago, IL with sales representatives and dealers throughout the U.S. In 2012, Norix launched Safe Environments, a news and information blog serving architects, designers, administrators, and facility managers involved in the design, construction, and operation of challenging environments. For more information, call 800-234-4900 or visit: https://norix.com.