Case Study: Max-Master Tables Provide a Long-Term Solution for Wakefern Food Group
Discussed in a recently published case study, Wakefern Food Corp., is the largest member-owned wholesale distribution cooperative in the United States. They supply groceries and other merchandise to more than 200 ShopRite supermarkets. Wakefern operates a 1 million sq. ft. distribution center in Carteret, NJ.
Wakefern needed cafeteria cluster seating satisfying the following requirements:
Uncommon durability
Ease-of-maintenance
Long-term value
Norix Max-Master tables provided the long-term solution for Wakefern's high-traffic food service area. The permanently affixed, non-removable floor guides solved their maintenance problem encountered with previous tables.
The high-traffic food service area also benefitted from the high-pressure laminate top which is sealed with a specially formulated and extremely durable molded, polyurethane edge. The molded edges are pressure fused to the 45 lb. density fiberboard core, which ensures the edge is seamless, non removable, and highly sanitary – for food service applications.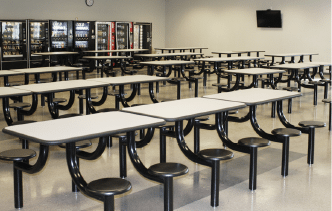 Norix's Max-Master series features sturdy, institutional grade tables with fixed seating. The patented individual leg/seat design provides more stability than individual tables.
For more details, read the entire Project Case Study: Commercial – Wakefern Food Corp.