One Innovation Drive designated LEED- Gold
Norix Headquarters at One Innovation Drive in West Chicago Il, is designated as LEED Gold Certified by US Green Building Council
As the leading provider of intensive-use furniture, Norix has proudly served the Behavioral Healthcare, Justice, GSA, Transitional Housing, Commercial, and Education markets for over 35 years. The safe and durable American-Made Furniture is relied upon daily to help keep spaces safe and sanitary while providing long-term ROI.
Sustained growth has led Norix to expand operations into a newly manufactured, 205,000 sq. ft. LEED-Gold certified headquarters in the suburbs of Chicago, IL. The new facility embodies the company culture and its commitment to environmental sustainability.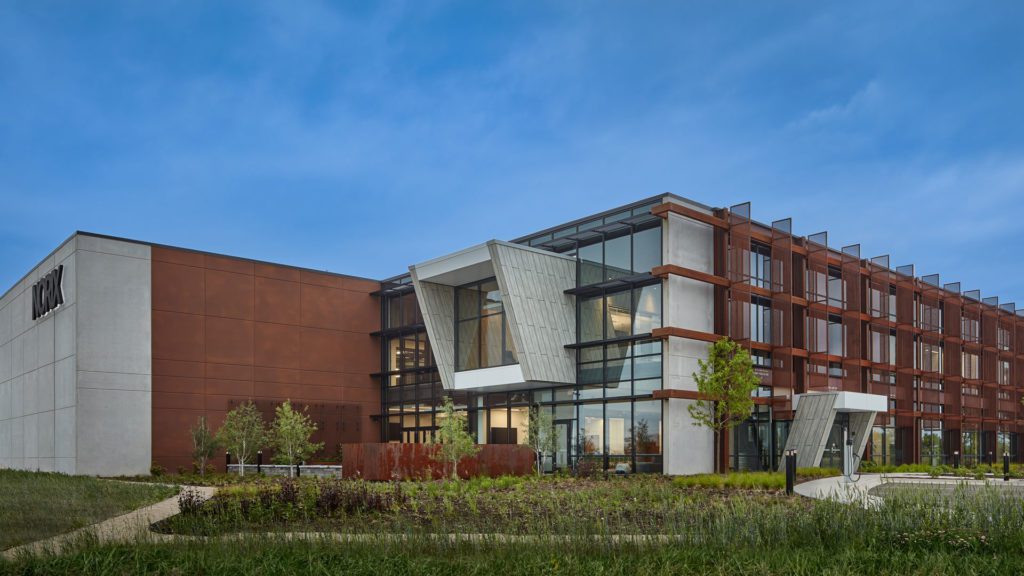 Highlights of the sustainable features at the core of the building design include:
The use of natural topography and landscaping; an extensive pedestrian pathway around the property; energy efficiency elements in the building envelope; renewable energy sources; and an extensive sunshade and solar panel system to harvest daylight.
The use of exterior sun shades to block direct sunlight entering the office. A horizontal and angled "blade" design on the south office facades will help shade summer sun and let in the winter sunlight. About 90 percent of the electricity for the building and manufacturing process will come from renewable energy sources, including 3,444 photovoltaic solar panels on the roof. Additional energy will be harvested from 22-foot solar trees incorporated into the landscape.
The facility is constructed of pre-cast concrete panels and energy-efficient double-paned insulated curtain wall glass with rusticated "cor-ten" steel accents.
The site includes natural landscaping and bioswales where stormwater from paved surfaces can filter back into the ground. Landscaping reflects the natural prairie environment that existed prior to the industrial park's building, which minimizes the need to mow, irrigate, and use herbicides or fertilizers.
Sustainable design features also specifically benefit employees, encouraging them to fully embrace the company's commitment to sustainability, including: The employee café, with high ceilings and expansive glass walls, lets in naturallight and provides views into the landscape. The café directly connects to an outdoor patio to provide workers with an outdoor experience and fresh air.
In-house showers are designed to give employees an incentive to bike to work for fitness and environmental health. Employees are encouraged to live in nearby developing suburban neighborhoods where they can walk/bike to work or share transportation.
Preferred parking spaces will also be provided for carpoolers and provide dedicated charging stations for those using fuel-efficient cars.
Learn More About the Features of One Innovation Drive
Press Release [PDF]