Healthcare News Source Points to Design, Integrated Care as a Path to Better Patient Outcomes
A leading healthcare news source recently highlighted an emerging trend in which hospitals and other care centers are turning toward a more comprehensive treatment model that integrates behavioral healthcare within their medical and physical healthcare facilities.
According to Behavioral Healthcare Magazine, this synthesis partially aims to provide greater access to more treatment options within an evolved and integrated facility design that includes more normalized environments that are aesthetically pleasing and safe for BHC patients.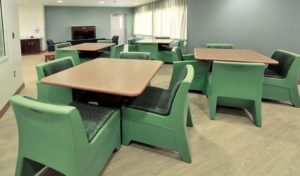 "For a long time, behavioral healthcare has sort of lived in stand-alone, separate facilities, but most patients have co-occurring disorders. So the integration with medical and physical healthcare is helping staff be much more effective," Tim Rommel, AIA, MRAIC, principal, Cannon Design, said in the article.
But it's not just about the treatment, according to Behavioral Healthcare Magazine. Rommel and other architects with expertise in the healthcare market say that along with comprehensive care, healthcare spaces can provide a sense dignity and include a variety of qualities that make them less institutional in nature, all of which can lead to better patient outcomes. Examples of these qualities that are mentioned include:
Acoustics, natural light and aesthetics that promote healing and reduce stress in BHC spaces
Art therapy rooms that help "deescalate" aggressive patient behavior before it happens
Therapeutic facilities that are "beautiful settings of care."
Multipurpose facility designs that allow for flexible uses within rooms in the environment
The article provides many other in-depth characteristics that should be considered by those involved in the design of behavioral or integrated healthcare facilities, all of which point to a conclusive fact: the face of behavioral healthcare is radically changing, and the care for those who suffer from mental illness can be positively impacted by the actual environment.
Norix, a leading provider of behavioral healthcare furniture, has written extensively about this evolution in BHC design and is considered to be on the forefront of creating products that are durable, aesthetically pleasing, safe and flexible in their use.
One such installation that can be pointed to is Pine Rest Christian Mental Health Services. At this BHC facility in Grand Rapids, MI, Norix Furniture products were picked for their durability and because our color palette allowed the facility to pick matching artwork to provide a more normalized and residential facility.
"With this renovation, we wanted to create a healing and therapeutic environment," Heather Treib, Director of Operations of Hospital Based Services at Pine Rest, said in a Norix case study. "This can be a challenge because furniture typically found in facilities like ours is often very institutional looking and not welcoming at all. We really liked the Norix color options and we thought we could find artwork that would match up well with it."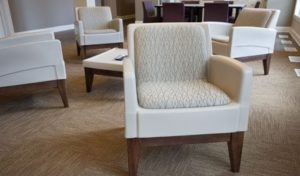 Another facility that incorporated this new approach to BHC facility design is Airmount Woods Autism Home in Ramsey, NJ, which includes eight bedroom housing units. Each of the residents has their own bedroom, bathroom and other amenities, while a common living and dining area are shared among the residents and staff members in each of the buildings.
When considering furnishings, the facility needed flexibility – an important design factor according to Behavioral Healthcare Magazine – and purchased products that could be used in multiple settings and provide the facility with the option of moving the furniture around for different uses when needed. The facility also needed homelike aesthetics and extreme durability, both of which can be found in the behavioral healthcare seating options that Norix provided.
"In addition to the aesthetics, the furniture needed to be able to withstand different behavioral and sensory concerns that effect people with autism," Sarah Poplyansky, Northern Region Director of New Horizons in Autism, Inc., said in a Norix case study. "The chairs and furniture needed to have security features that allow everyone in the facility to be safe."
Despite these anecdotes and the information provided in Behavioral Healthcare Magazine, the normalization of behavioral healthcare and its integration within medical and physical healthcare is still not widespread. Perhaps a more appropriate evaluation of its status would be to say that it is in fact evolving, and it's starting to make serious headway in the attempt to provide comprehensive care and to destigmatize what historically have been institutional BHC facilities.
Because after all, doesn't it just make common sense that the combination of aesthetically pleasing settings, proper safeguards and comprehensive care would lead to better healthcare outcomes? And, when you think about it, whether you are spending time in your doctor's office or a physical therapy center, wouldn't you yourself just feel better knowing that such thought and energy went into creating a harmonious place where you go to heal or receive treatment?