Ganging vs. Bolting vs. Ballasting vs. Freestanding: How Secure Will Your Chairs Be?
You've chosen your chair manufacturer, picked out your chair and are now considering what colors to choose and if you want upholstery. You might even be at the point where you are thinking you need some tables or other furniture pieces to finish the order. But have you put any thought into how you're going to secure your chairs once they are in your facility and nearly ready for use?
In continuous-use spaces – such as correctional facilities, healthcare environments, public safety waiting rooms, military bases and institutes of higher education – picking durable furniture is often not enough to keep the furniture and those who use it safe and secure. A chair may stand up and perform well against the toughest environments, but facilities could face major security issues if it can be picked up or moved.
Those in charge of security, facility management or who maintain the furniture itself have options when it comes to ensuring your chairs perform the way they are intended. Below we outline the advantages and limitations of ganging, bolting down and ballasting your chairs, plus what to consider if you choose to leave your chairs "free standing."
Ganging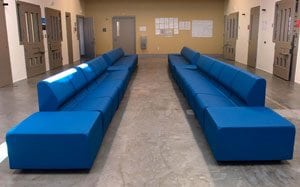 It's not as scary as it sounds. Ganging is the process of connecting chairs together using – most often – metal plates or other hardware on the backside or underneath the furniture piece. For example, Norix's Forté™ lounge chairs have molded-in steel threaded inserts so that our ganging hardware can be inserted on the chair, allowing the furniture to be fastened together. This method of securing chairs ensures that the product will not be picked up and used as a weapon, and allows facilities to remove and re-insert the hardware if they wish to reconfigure the chairs in the future. Also, if there isn't too many chairs ganged together, staff members can move the chairs for cleaning and maintenance. The only limitation to ganging is that chairs cannot be configured in a circle, only in straight lines.
Bolting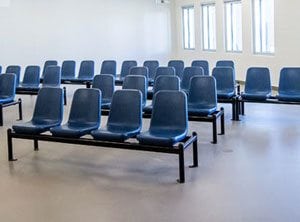 Bolting down chairs is considered the most effective measure in securing your furniture in intensive-use environments. This method – which is performed exactly how it sounds – uses highly durable bolts to fasten a chair to the floor for maximum security. Bolting down chairs ensures that the product is not going anywhere and will not be used as a barricade or a blocking mechanism against doors or specific areas in your facility. Norix's Boulder™ Beam Seating comes with tabs on its 14-gauge tubular steel legs where bolts can be inserted then drilled into holes in the floor. While this method provides maximum security, it does create limited configurability options since the chairs cannot be moved. But again, when it comes to security, bolting down chairs is superior to all other methods.
Ballasting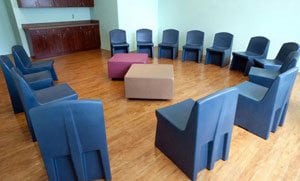 Ballasting is the act of filling your chair with some kind of material to weigh the piece down and limit movement. Most often this material is dry sand, and in many cases – depending upon the size of the cavity of the chair – significant weight can be added, therefore limiting movement and ensuring that the chair cannot be thrown or used as a weapon. For example, our Forté guest chairs come with molded-in access ports with a threaded screw cap on the bottom of the chair where sand can be inserted. And while the chairs become significantly heavier, a small team of staff members working together can move the furniture when a new configuration is needed or if the areas around or underneath the chair need to be cleaned.
Freestanding
Freestanding chairs offer the most flexibility of any of the methods mentioned here. In this case, the chairs are placed in the facility without any security features that aren't native to the chair already. This allows chairs to be moved easily from one side of the room to another or to other rooms altogether without much effort. However, you will need to consider the space where freestanding chairs will be placed since these chairs can in fact be moved. Therefore, this method is most commonly used in staffing areas and other spaces where security is not a prime consideration. Another option is to choose freestanding chairs that pose little risk. Our Integra line of chairs are one-piece, injection-molded stacking chairs made of high-impact, fire-retardant polypropylene. This chair weighs in at only seven pounds so possesses limited security issues.
Ask questions
The most important question to ask yourself is "what are we trying to do with this furniture and what do we need in regards to security and mobility?" Additionally, ask the manufacturer of your chairs for their input regarding the specific needs for your facility.
For more information on Norix Furniture Products, please visit our products page.
Dustin Coleman is a brand journalist for Norix Furniture and a contributor to the Safe Environments blog.