Emergency Shelter Furnishings a Necessity for Salvation Army
A recently published case study illustrates how the newly completed Salvation Army emergency shelter facility in Phoenix serves as an ideal model for evaluating and selecting furnishings for intensive use environments. The study describes the performance and design criteria identified by the project designers and shelter officials, and provides an overview of the specification process.  Key design criteria included:
Security and safety
Multi-functionality in terms of size and comfort
Easy accessibility for those with mobility restrictions
Aesthetically comforting
Cost-effectiveness
Easy maintenance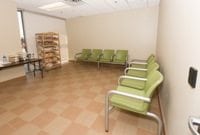 "When it came to furnishings, function and extreme durability were primary drivers for the client," said Brooke Vink, Associate IIDA/Senior Interior Designer at Deutsch Architecture Group, a key member of the project team
To meet the project's functional, aesthetic and budgetary goals and to provide transitional housing for nearly 4,000 people annually, the project team selected four Norix furniture products for the family suites: Titan Series Steel Case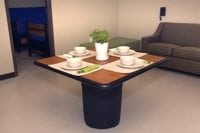 Goods; Hondo Series Lounge Seating; Madera Series Tables; and Gibraltar Series Lobby Seating. Images of the furnished suites are included in the 4-page case study. Detailed product information, including the array of color choices and construction specifications are available on the Norix website.
Please share this post with those interested in reading the case study on emergency shelter furnishings and how the installation of intensive use furniture helped the Salvation Army's Herberger Family Services Center in Phoenix.