Are We There Yet? Yep, Norix® Launches Durable Kids Furniture Series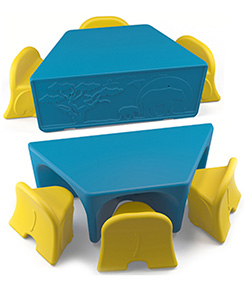 Imagine what it feels like to be a kid again. Everything is bigger and the world has so much potential. Underneath that table is cave full of bats. That big chair is actually the tallest tree in the forest, and guess who is climbing to the top. As adults, we can't stop our kids from exploring – and we shouldn't.
What we can do, however, is create a safe environment for our kids to be kids. That's exactly what Norix® Furniture did when it designed its all-new durable Kids Furniture Series. The company's goal was to create a product that not only was safe for children, but also sparked their creativity using plush colors, unique shapes, and animal themes.
The Elle Series is most recognized for its animal theme. It consists of two parts: The Elle Chair and The Elle Table. The Elle Chair is designed to look like a playful abstraction of an elephant with a cute trunk, wiggly tale and floppy ears. Children engage their senses by running their hands over the table's relief of an elephant and her calf. Like all furniture in the Norix® Kids line, the Elle Table is designed in a unique shape so multiple units fit together seamlessly.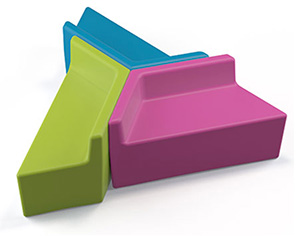 Norix® also is proud to announce the launch of A-Maze, a seating line with endless configurations. Anyone who has eaten a honeycomb knows how fascinating geometry can be. When one shape is repeated many times, the result can be amazing. That was the inspiration for A-Maze. It's a one-seat wonder. With so many possibilities, the Kids Furniture line is ideal for any kid-friendly space.
Shape and form also helped imagine the Hex-It series. The tapered hexagonal prism can be flipped on either side to serve as a stool, or a table. With two sizes to choose from, the potential is endless. Push a group of Hex-It against the wall for seating, or connect them to create a circle. A large Hex-It can be a kid-sized table or a seat for grown-ups. When finished, stack them up for easy storage. All products are made of rotationally molded, high-impact polyethylene, which is light enough for kids to move, yet durable enough for constant use.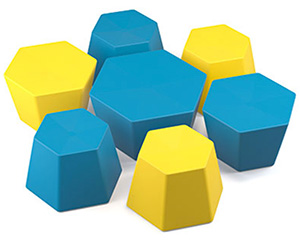 Of course, the most important feature in Norix's new line is its kid-safe design. Norix® has raised the bar in safety by ensuring its roto-molded polyethylene is FDA Approved, and GREENGUARD Gold Certified for low chemical emissions. A-Maze, Elle Series, and Hex-it are all one-piece units featuring rounded edges for minimal "boo-boos." They also have no holes or moving parts. Smooth surfaces not only reduce scratches and scrapes, they also protect against the unseen enemy – germs. By eliminating crevices, the Kids Furniture line is also easy to clean and sanitize.
For Norix® Furniture, the goal was not just to create something youngsters love, it was to design highly durable kids furniture that fits the needs of constant-use environments and still looks great year after year. Whether the piece is placed in a sunny dayroom, a waiting area, or a classroom, its premium TruColor™ material is fully compounded for superior color and quality assurance. That, combined with a plastic so sturdy it can hold 500 pounds, ensures no one will be searching for a replacement in the years to come.
For more information on Norix's New Kids Furniture line or to request a quote, visit our durable Kids Furniture page here.