Creating A Sense of Place for Higher Education Students
Creating a sense of place, or "placemaking", is a trending topic in architecture spaces. Any space in the world can become a place, but only through intention, well-thought out design, and purpose. Places are full of life, have a purpose, and are where memories are created. They can also nurture the spirits and influence the way people use their environment.
Creating a sense of place is important for any public space. Though, for high-traffic areas that are used by a diverse population, like educational facilities, it's essential. Even more so in higher education institutions where these places are often a shared space. Creating an environment that your students are eager to visit is a lot easier when it's furnished with modern university furniture that's vibrant, inviting and comfortable.
How can you use furniture in different areas around campus to ensure your students feel right at home? Keep reading for ideas and inspiration.
What is Creating a Sense of Place (and Why Does it Matter)?
For many students, the campus is their home for four years or more. These students will care deeply about how the spaces they interact with feel, function, and appear.
It all comes down to a few factors:
How the space looks
How the space feels
How the space influences people in the space
Furniture is a driving force in all three of these factors. The wrong furniture can make an area seem uninviting, fail to inspire proper use, or invoke negative emotions about the space. Meanwhile, the right furniture can enhance the space, make it feel inviting, and influence prospective students when visiting campus.
From the shape of the furniture to the colors, textiles, and durability of the piece, what you choose matters in creating a sense of place from dorm bed frames to seating options and even dining tables.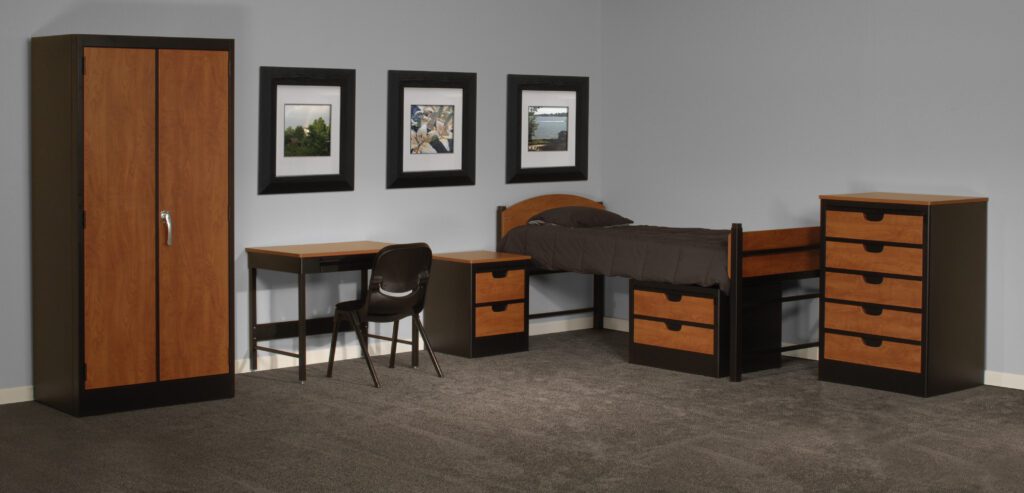 How to Create a Sense of Place in Higher Education
Before giving purpose to a space, you should consider the intended use of the area. How people actually use the space, the psychological impacts of your choices, and the overall investment must be identified before considering which education furniture pieces work best. Finding a mix of flexibility, style, and durability are huge in protecting your investment while avoiding a sterile and boring environment.
Dorm Rooms
Dorm rooms are usually overlooked when looking at higher-education design. After all, the public is never in these spaces, so why spend a lot on dorm room furniture? For many college students, they will spend a large portion of their time in their dorm rooms. From relaxing, studying, visiting with friends, and more, dorm rooms have a lot of use without much fanfare.
Create a positive sense of place for your higher education students by having comfortable, stylish, and functional furniture. Choosing products that feature plenty of storage space paired with durable and easily moved furniture can help each student settle in as they add their own personal touches.
Norix offers the Titan and Protégé lines, which are specifically designed dorm room furniture pieces built to withstand heavy use without sacrificing a modern, elegant, home-like appeal. The wood finish on steel construction creates a resilient dorm setting without the institutional look. It's a win-win!
You will also want to consider comfort, especially with any seating or dorm mattresses. Sleep is vital in keeping students engaged and successful. A consistent bad night's sleep due to discomfort will negatively impact their sense of place.
Community Areas
Community areas on higher-education campuses are some of the most visible and frequently used spaces. Similar to the dorm rooms, flexibility and durability are paramount here. Easy configuration can help meet the changing needs of the space and the utilization of durable materials will help with longevity, despite the demands of these high traffic areas.
The colors and finishes of the furniture can match the brand of the college or be used to create a distinct feeling in the space. Ultimately, the goal of creating a sense of place in any well-designed environment is to complement any natural beauty- not take away from it.
Need some inspiration? Check out our Hondo Nuevo Series in use at Missouri State University in Springfield, MO.
Combine style and function when furnishing challenging environments such as residence halls, recreation halls, and student centers. Norix provides a wide range of suitable options, including dining, lounge, activity, and event furniture, and we also offer bed bug-resistant products for student safety and ongoing peace of mind.
Classrooms
In higher education, classrooms are used by a wide variety of scholars and educators. To allow professors and other educators to create their own unique place and match their teaching style, moveable furniture is a must.
Moveable tables, desks, and chairs allow for easy reconfiguration from a traditional lecture setup to small groups for group projects. Moveable furniture also allows for more collaboration in the classroom, which is important for fostering relationships and creating a positive experience for higher education students.
If you really want to inspire collaboration, engagement, and even possibly higher grades for your students, you can also embrace active-learning design in the classroom. Fixed round tables where teamwork is at the forefront of the curriculum.
Paired with comfortable textiles, high-durability surfaces, colors that inspire learning, and proper technology, you can create a place where students look forward to learning in.
Study Spaces
For study spaces, we are looking for a marriage of the principles used in dorm rooms, community areas, and classrooms. Think comfortable with a wide variety of configuration offerings to allow for group or individual studies. Overall, the furniture you use in study space should not be too distracting so the focus can remain on their studies.
As with any common area, highly cleanable pieces of furniture should also be considered. Knowing that the furniture is clean and safe can provide peace of mind for both students and staff, further adding to a positive sense of place on your campus.
Creating a Sense of Place in Higher Education
Furniture helps cultivate the overall experience of your campus, while creating character and making a statement. Providing today's college students with a positive sense of place where they feel safe, valued, and comfortable sets them up for success for years to come.
The best furniture to add purpose to a place takes into account that people have different needs and will use the same space in different ways, based on those needs.
To get started in creating a sense of place at your higher education campus, check out our full offering of educational furniture.