Correctional Furniture by Norix Displayed at American Correctional Association Conference
Norix Furniture, a producer of durable and aesthetically pleasing products made for intensive use, will showcase select lines of correctional furniture during the American Correctional Association's 146th Congress of Correction on August 5-10 in Boston. Founded in 1870 as the National Prison Association, "ACA is the oldest association developed specifically for practitioners in the correctional profession," according to its website.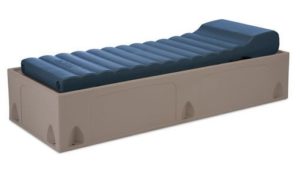 Visitors to Norix Furniture's Booth #622 will have the opportunity to speak with company representatives and view multiple products including our new and innovative Custody Marathon Seamless Mattress. This product has no strings, no seams and no stitches. That's because Marathon is made with a nearly ¼ inch seamless, vinyl skin exterior that is rotationally molded in one piece – not sewn or stitched. It's also filled with cushioned polyurethane foam for comfort and comes with an integrated double sided pillow for added safety and security.
The unique construction of Marathon protects against untimely breakdown and loft loss, providing facilities a product with comfortable and long-lasting lumbar support. In addition to the features listed above, Marathon is:
Heavyweight to deter use as a barrier or weapon.
Non-absorbent and fluid resistant.
Built with no seams for bedbugs to invade.
Chemically resistant to bodily fluids, vinegar, salt solutions and chlorine solution.
Easy to clean and sanitize.
Compliant with the following flammability standards: 16 CFR Part 1633, 16 CFR Part 1632, California Technical Bulletin 129.
GREENGUARD Gold Certified.
Constructed with Premium TruColor™ material making it fully compounded for superior color, fire retardancy and quality assurance.
Backed by a five year limited warranty.
Want to see Marathon put to the test? Watch our durability video to see just how tough it is.
Other correctional furniture products that will be on display at the Norix booth, include:
Attenda® Bed – This bed is molded in high-impact polymer, then filled with rigid structural foam. Its seamless construction comes with rounded corners and is easy to clean. Bolt-down installation for safety and security is available.
Citadel™ Property Storage Container – This product is an allowable in-cell property storage container for inmate records and/or personal possessions. Designed and engineered for institutional durability, this box has a 2.2 cu. ft. interior volume and is suitable for continuous daily use in a correctional environment.
Forté™ Guest Armless Chair – Our guest chairs are made of one-piece rotationally molded polyethylene and are manufactured with ergonomic contours that provide comfortable support. These chairs come in a variety of colors, have an upholstery option and are suitable for heavy-duty use in inmate or staff areas.
Hondo Nuevo® Series – A new line of unique furniture that combines superior durability, comfort and style and includes chair, bench and wedge options that allow for flexible, modular seating arrangements.
Wink Lounge Arm Chair – Unlike traditional products which mix wood frames and upholstery, this series features a sturdy, one-piece rotationally molded polyethylene frame with a lightly textured surface that allows for easy cleaning. It also features non-removable nylon glides that protect your floors, while the frame's Premium TruColor™ material is fully compounded for superior color and quality assurance.
For more information on our correctional furniture products, visit our website.