Case Study: Higher Education Institution Updates Facility with Norix's Sierra Series Seating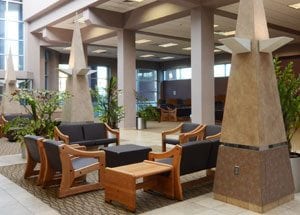 A community college outside of Jackson, MS, recently updated its wellness center with Norix Furniture product solutions after its previous furniture began to break down less than a year after the school purchased it.
Hinds Community College is the fourth-largest institution of higher education in Mississippi with students from over 70 counties in the state participating in the school's 170 programs across six locations.
At its main campus in Raymond, Hinds maintains a Wellness Complex for use by students, employees and the public. The facility includes a lobby where students can study, socialize and meet with friends between classes.
The lobby includes six seating areas, nine computer kiosks, and a Wii station – all of which are available for use during open hours. The existing chairs in these seating areas required frequent repair, prompting the school to seek out new furniture that was better suited for the environment.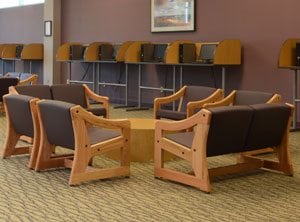 "We were not happy with the previous furniture. We had to start making major repairs less than a year after buying it," Hinds Wellness Complex Director Donald Poole said. "We were spending more money on maintenance than it would cost to replace it with furniture that would actually work for us."
Consultative sales specialist Doug Renfrow recommended Norix's Sierra Series seating for its structural integrity. Sierra chairs feature seat cushions made of non-absorbent vinyl, rotationally molded over tubular steel frames, with end arms made of 1 3/4" thick butcher-block oak. A single chair weighs over 75 lbs. The seating is available with either open or solid arms and in a variety of seat colors.
The college took Renfrow's recommendation and selected Sierra chairs, loveseats, end tables – plus Hondo® Series Cubes – for their lobby area. The first installation of furniture occurred in the summer of 2012 and included products for four seating areas.
The college later purchased furniture for the additional two seating areas which was installed in September 2013.
"You can't tell the difference between the furniture that was installed over a year ago and the furniture that was recently installed. It is holding up amazingly well," Poole said. "It's doing everything I expected it to."
Download our Hinds Community College Case Study for more information on the installation and the Norix products that were selected.
Dustin Coleman is a brand journalist for Norix Furniture and a contributor to the Safe Environments blog.