Case Study: County Jail Reduces Costs and Saves Man Hours through Installation of Video Visitation System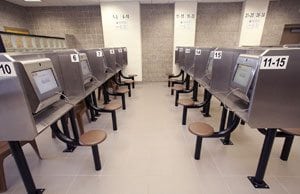 A Midwest county jail that originally opened in 1975 recently underwent a renovation that included the installation of Norix Furniture video visitation products in an attempt to reduce costs, increase security and offer families a better visitation experience.
The Lake County Jail in Crown Point, IN has a total capacity of 1,100 general population inmates with an additional 200 on work release. The county previously offered traditional contact and non-contact visitation that required visitors to pass through extensive security screening to gain access to the visitation area within the jail. Additionally, correctional officers were required to escort inmates from the secure housing units to the visitation area.
This resulted in the devotion of many hours to the transportation of inmates. In fact, the jail estimated that more than 25 percent of correctional officer man hours were associated with this task. Additionally, officers spent a significant amount of time screening for contraband before inmates entered the visitor area.
To reduce the use of resources associated with traditional visitations, Lake County decided to install a video visitation system. RQAW Consulting Engineers and Architects designed a visitor center in the main lobby with 30 visitation stations, and 110 inmate stations in the secure dayrooms.
RQAW and The Lake County Sherriff's Department worked with a team of solution providers, which included companies providing electronic hardware, telecommunications network and detention equipment installation services. RealTime Detention LLC – consultative sales specialists – coordinated the project realization.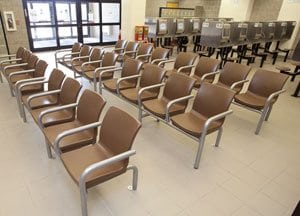 Working with these other specialists, Norix provided custom-designed steel cabinetry to contain the Telmate Video Visitation/Inmate Communication system, protect the county's investment in electronics and provide a comfortable environment for visitors.
Cubicles in the visitor center needed to be large enough to accommodate multiple family members and offer necessary privacy – yet facilitate effective monitoring of conversations by correctional officers for security purposes.
"I designed around Norix because I know and trust their quality," said Joseph M. Mrak, AIA, Senior Vice President of RQAW. "For the Lake County project I needed their unique designs in furnishings for Public and Inmate Video Visitation, Lobby Seating and ADA Shower seats. Their willingness and ability to customize the Intelestation product in the public lobby was exactly what I needed to provide the client the best design for the usage in that space."
With its new streamlined video visitation process, visitors are now able to schedule their visits online, allowing greater flexibility for days and hours of visitation. Additionally, the large visitation stations provide the ability for multiple family members to visit inmates simultaneously and reduce the traffic in the public lobby area.
Download our Lake County Case Study to read more about the project and the Norix Furniture video visitation products that were installed.