5 Advantages of Rotomolded Furniture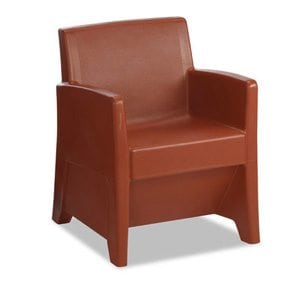 Rotomold.
No, it's not the newest and coolest app your child wants to download or some speedy road bike from Italy. Short for rotational molding, rotomold is the process of creating one-piece products by using a hollow mold that is filled with polyethylene, nylon, polycarbonate or some other material then heated and rotated.
The material melts and bonds to the inside of the mold and is then removed once it is cool enough to retain its shape. The process has been around for decades and is used to make kayaks, playground equipment, storage containers, furniture and many other items that require extreme durability.
Admittedly, the process for making these products is more extensive than described here and includes several additional steps. So, mechanics aside, what does all of this mean for you, the potential user? Below we detail five advantages to having rotomold furniture in your intensive-use facility.
Durability
Perhaps the greatest benefit of rotomold products is their durability. Rotomolded furniture is structurally robust, dent resistant and cannot rust. Additionally, furniture that is manufactured as one piece is much less likely to break than furniture that is produced using multiple parts connected with mechanical fasteners. In a nutshell, the fewer the pieces the fewer the problems.
Easy to clean
The polymer materials and the one-piece production used in rotomold allow furniture to be manufactured seamlessly and with smooth surfaces. Due to one-piece construction, there are no cracks and crevices where debris and fluids can gather. All of this together allows for the easy cleaning of the entire product using just a damp cloth, water and soap.
Fire retardant
The plastics used in rotomolding provide an especially aggressive safeguard against the strains put upon it in daily-use environments. Products can be manufactured with specially formulated, fire-retardant, high-impact materials that are compliant with industry flammability standards. For fire resistance, superior color and quality assurance, fully compounded polyethylene is the premium and preferred material used in rotomolding.
Chemically resistant
Premium rotomold materials also can be chemically resistant to body oils and fluids, salt solution and cleaning solutions – adding years to the life of the furniture. This is especially important for high-use environments where there is a high turnover rate in occupants. This resistance provides highly necessary infection control not found in furniture made of inferior materials that may stain or include spots where fluids may accumulate.
Tamper proof and safe
The rotomold process can eliminate what would normally be rectilinear shapes and replaces them with smooth contoured surfaces. This creates an element of safety for those using the product and guards against sharp edges in challenging environments. Additionally, highly durable material is break resistant and prevents users of the furniture from producing pockets or holes in the product where contraband or other undesirable materials can be stored.
Can you name other advantages of rotomold furniture, or do you have any experiences with rotomold products you would like to share? Please leave your comment in the space below. Also, feel free to visit our products page to learn about Norix® Furniture's rotationally molded products and intensive-use, institutional furniture.
Dustin Coleman is a brand journalist for Norix® Furniture and a contributor to the Safe Environments blog.