3 Chair Base Options for Your Facility's Common Areas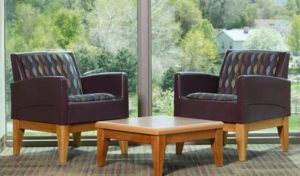 So you're in the market for new chairs for your continuous-use common area, and you know the color you need to match the room's aesthetic. You might even have decided on the style of chair you want – maybe a lounge chair with a deco design or perhaps a chair with wood arms and back, with a comfortable cushion to sit on. If you are really ahead of the game, you probably have already considered ergonomics to ensure your chair is easy on the joints and bones.
But have you spent any time thinking about the base or legs for your new chair?
If not, you probably aren't alone. The aesthetics and comfort of the arms, back and the area where you sit often trump the legs and base of chairs in residential areas since they often aren't the most prominent piece of the product.
But in challenging environments where furniture is put under great distress, bases are as important as any other part of the chair. A poorly constructed base can lead to the breakdown of the product and even pose serious safety issues.
So, it's important to do your research before you buy to ensure you're getting the appropriate product that was designed for your facility. Below we give you advice on three common chair bases found in continuous-use environments.
Wood and Molded Wood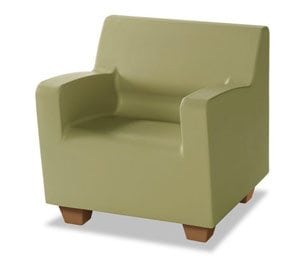 Whether you're thinking of your grandfather's rocking chair or the legs on the modern leather sofa in your apartment, nothing says home like wood. Wood also can help create a residential feel that can normalize environments that historically are not known for their sense of design. Wood is also strong and can support heavy weight, and is a very diverse choice for chair bases considering the number of different types of wood that are used and the different hues of vanishes and stains that can be applied to them. If you want the look of natural grain and strength to boot, then wood is your obvious choice.
However, if your chairs are going to be in an area where scrubbers are used to clean floors or where industrial vacuums clean rugs, do consider this: wood can chip and be scratched. For those types of environments, molded wood might be a better option. These bases are often made of durable polymer that looks like wood and come in the same color as many types of wood. Molded wood bases are even rot-resistant and since the polymer is the same color inside and out, scratches and nicks are much less visible.
Steel
Steel is a versatile material used for chair bases and – as you might suspect – is highly durable and stands up to the continuous-use found in common areas. To give you an example of the diversity of steel, let's compare two Norix Furniture steel bases:
Forté Lounge Arm Chair with Steel Base – This comfortable lounge chair gives facility's the option of slender steel legs. But don't be deceived. The base and legs are made of 12 gauge welded steel with molded-in steel threaded inserts for optional ganging side-to-side. That means the chairs can be connected to avoid movement and ensures that the product won't be picked up.
Gibraltar™ Beam Seating – Gibraltar is a series that is designed for airports, waiting rooms and other environments where large groups of people need seating. Facility's can choose to have up to five seats sectioned together by an inter-connected chair base. Yep, five chairs. That can be a lot of weight if all chairs are occupied. That is why the chair base is constructed with 14 gauge steel along with 11 gauge steel seat supports to ensure that the chairs can handle the weight and all occupants are free of harm.
Bottom line, if you are looking for highly durable bases with a contemporary design, then steel is your obvious choice.
Plinth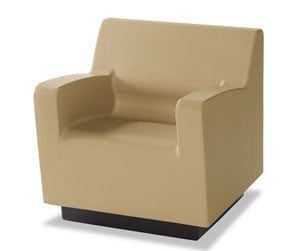 A plinth chair base can best be described as a platform or block that the upper part of the chair sits on. Don't be surprised if you haven't heard the term before. Plinth is perhaps the best kept "secret" for chairs in common areas and other environments.
Plinth is often chosen for its extreme durability and safety. In fact, it's considered the most secure of all of the bases featured in this post. The bases are often made of one-piece, rotomolded polymer with no openings and no place to conceal contraband.
Additionally, many chairs with plinth bases can be ballasted – an option where sand or other material is poured into the inside of the chair to make it hard to move or be picked up. And when properly fabricated, plinth bases are scratch, fluid and damage resistant. Lastly, your cleaning staff will thank you for choosing plinth bases since they are easier to clean and don't require any reaching between chair legs.
Conclusion
So when choosing chairs and bases for common areas, always ask the following questions:
What is the main challenge for your environment? Is it safety? Durability? Aesthetics?
How do I know the chair is durable? What evidence does the manufacture give to prove that the product can stand up to my environment?
Do my chairs need to be ballasted, secured or connected together? And if so, do the chairs give me that option?
Go to the Norix Furniture products page to learn more about our chairs and the available base options.