3 Advantages of Choosing Factory Installation for Your New Furniture Purchase

Editor's Note: This blog post was written by Willie Carmarillo (right), Norix Furniture's Project Manager – Installation Division.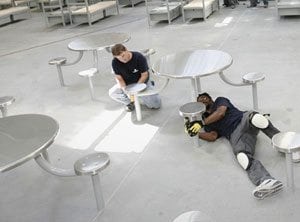 Wouldn't it be great to have the ability to rewire our home's electrical system, fix our computer at work, master our kids' algebra assignments and prepare the meanest baked lasagna ever? Sure it would be.
However, even the handiest of handy men and women reach a point when they throw their hands up in defeat, realizing they needed to call in a professional to take care of a project from the start.
Now, it might just take some elbow grease, a socket set, a screwdriver, and a hammer to assemble department store furniture. But it takes a high level of expertise to install and assemble intensive-use products in correctional, healthcare, educational, law enforcement, military and commercial environments where continuous use is a factor to consider. In fact, improper installation can lead to unnecessary wear and tear, leading to possible break down of furniture and injury. It also can create a poor aesthetic in a facility that is otherwise characterized by sound design and structural integrity.
That's why a factory authorized installation is a wise alternative for those facilities that do not have an experienced team for the installation of their new furniture products. Below we give you three advantages to leaving this part of the product life cycle to the professionals.
Full scope of work
It's not just a matter of tucking chairs in the corner and asking for your signature upon receipt. At Norix, our professional installation team does everything from start to finish for a complete carefree installation. It's one-stop shopping, and includes all of the little things you may not have thought of when you bought the products. Our scope of work can include, but is not limited to:
Preparing a detailed scope-of-work document
Project scheduling and coordination
Coordinating shipping and delivery
Meeting the delivery truck, off-loading and staging the furniture
Distributing the furniture throughout the facility
Un-installing and removing of previous furniture, if requested
Assembling the furniture to specifications
Installing all tamper-resistant mounting hardware provided
Anchoring furniture to walls and floors
Removing all packing materials and debris
Caulking and filling gaps with security caulk, if requested
Conducting a walk-through with a facility representative to obtain final sign-off
Installed by professionals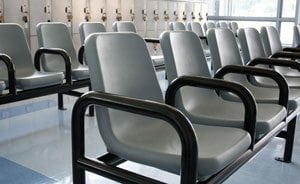 For its factory installations, Norix has contracted with Largo Associates – a company with more than 20 years of experience in placing intensive-use furniture in occupied facilities, and in a variety of environments.
They are familiar with the complete Norix furniture line and each professional has been factory-trained. Additionally, Largo Associates is the only factory authorized installer of Norix furniture products. Facilities where our team has successfully installed furniture include:
U.S. Federal Bureau of Prisons
Veterans Administration Medical Centers & Domiciliaries
U.S. Departments of Immigrations and Customs Enforcement (ICE)
U.S. Department of Immigration and Naturalization Services (INS)
United States Marshall Service
State Departments of Corrections (Maine, Massachusetts, Florida)
State of New York Dormitory Authority
State of Florida, Department of Child & Family Services
Georgia Department of Mental Health
North Carolina Department of Juvenile Justice
Florida Department of Juvenile Justice
Salvation Army Adult Rehabilitation Centers
Union & Gospel Rescue Missions
Catholic Charities
Marriott Corporation
Full Warranty
All Norix products come with a 5-year limited replacement warranty for those rare cases where our furniture does meet the standards that we place upon it. This warranty not only protects your actual furniture but also the installation services if you purchased them.
What does that mean for you, our customers? In the rare case that our installation services do not perform the way intended we will send a team to correct the installation for you at no additional cost. In this regard, factory installation and the warranty that covers it, ensures that your furniture continues to work properly throughout the lifespan of the product, as specified, and required by Norix.
Admittedly, factory installation is not free, but it makes sense for those operations that do not have the luxury of experienced, in-house teams, that can install furniture for them.
Download our Factory Installation Brochure to learn more about our installation services.